New season.
New gift packaging.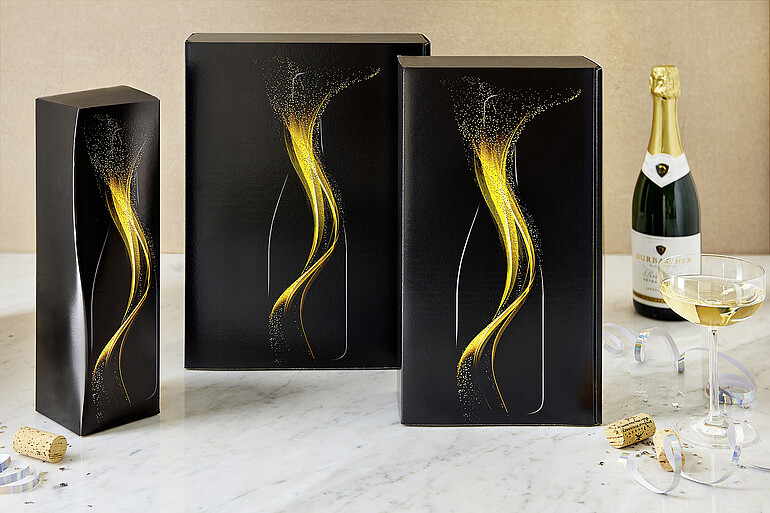 Cheers
This timeless and elegant black packaging fits seamlessly into our new selection and captivates with shiny, golden curves and sparkling pearls which envelope an implied bottle. This can also suggest a golden gift ribbon. The 1 bottle folding box with Cheers design is enhanced by its distinctive shape. Let's raise our glasses together again – cheers!
The Cheers design is available as a 1 bottle wine folding box, 330 mm, as well as a 2 and 3 bottle wine gift carton, 360 mm.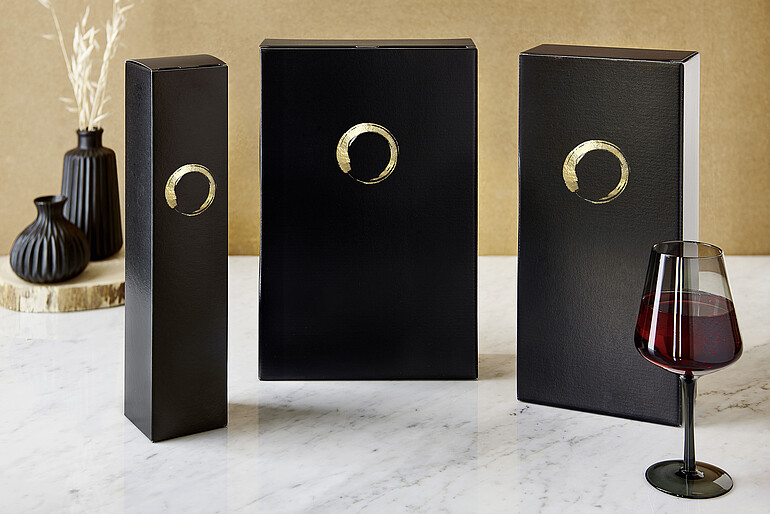 Signum
Distinctive, elegant, harmonious: The Signum design has all the makings of a classic. Set against a matt black background, bold 3D hot foil embossing in classic gold immediately catches the eye. As a circle, the design can be a symbol of all kinds of things, from the cycle of life to the impression of a wine bottle or even a Christmas bauble.
The Signum design is available as a 1, 2 or 3 bottle wine folding box, 360 mm. The following sizes are additionally available:
1 bottle wine gift carton, 380mm, 2 and 3 bottle wine gift carton, 360 mm, 1 bottle wine and schnapps folding box, 340 mm and 406 mm, magnum sparkling wine folding box, 405 mm, magnum wine folding box, 490 mm.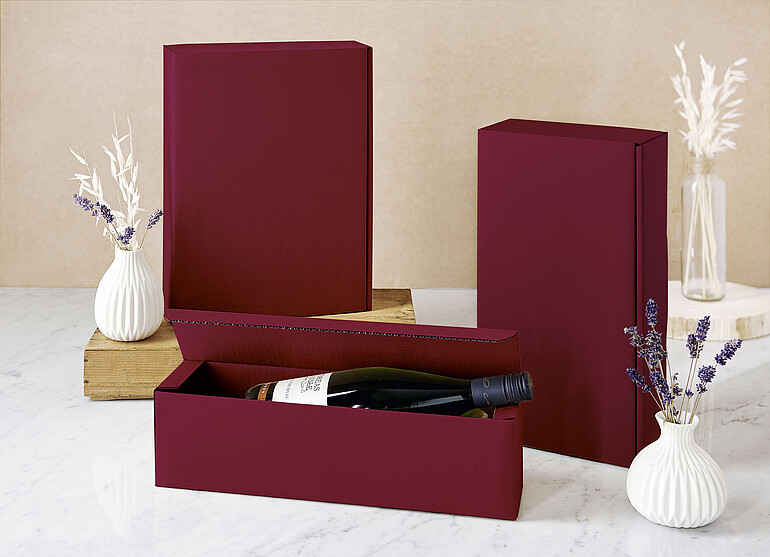 PURE line Bordeaux
The PURE line black and natural product range, which we successfully launched 5 years ago, is now complemented by a warm, matt bordeaux shade of red. This strong colour is also found on the inside of the box as well on the matching coloured inlays. The box is a great choice for any occasion, either as it is or with an individual (logo) embossing in gold or silver, or in other colours on request.
The PURE line bordeaux design is available as a 1 bottle wine gift carton, 380 mm, and as a 2 or 3 bottle version, 360 mm.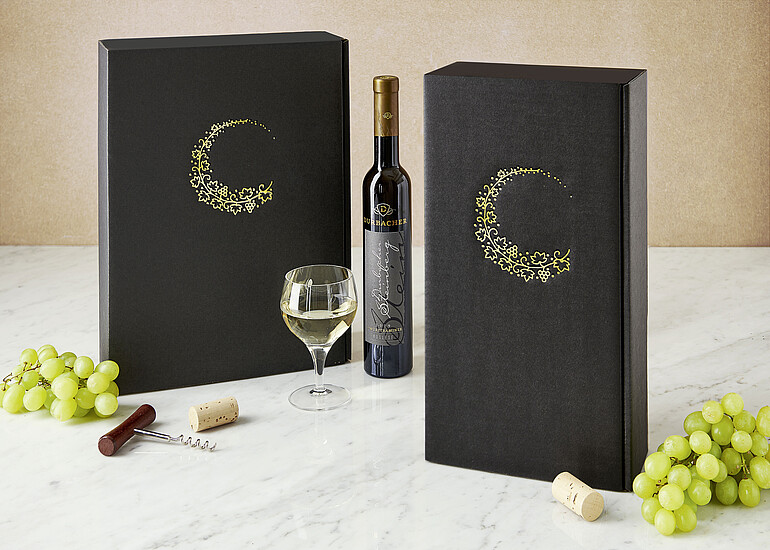 Goldene Rebe
The popular black PURE line wine gift cartons are now also available with a classic wine design in fine, golden 3D hot foil embossing. The shiny gold, fine-textured elements create an attractive contrast to their matt black background.
The Goldene Rebe design is available as a 2 or 3 bottle wine gift carton, 360 mm.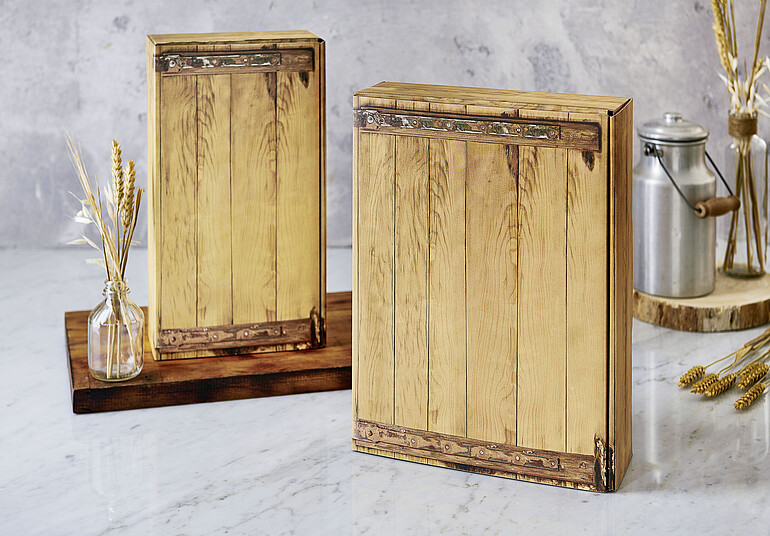 Old Style
A sense of home for everyone: After the great success of our regional Heimat (homeland) design, featuring an image of a woman in traditional Black Forest costume with a red "Bollenhut" hat, we have created a neutral alternative for those who prefer natural materials. Old Style captivates with its light, warm, restored wood effect and charming details. In addition, the carton now also offers plenty of space for custom (logo) embossing or your own regional elements.
The Old Style design is available as a 2 or 3 bottle wine gift carton, 360 mm.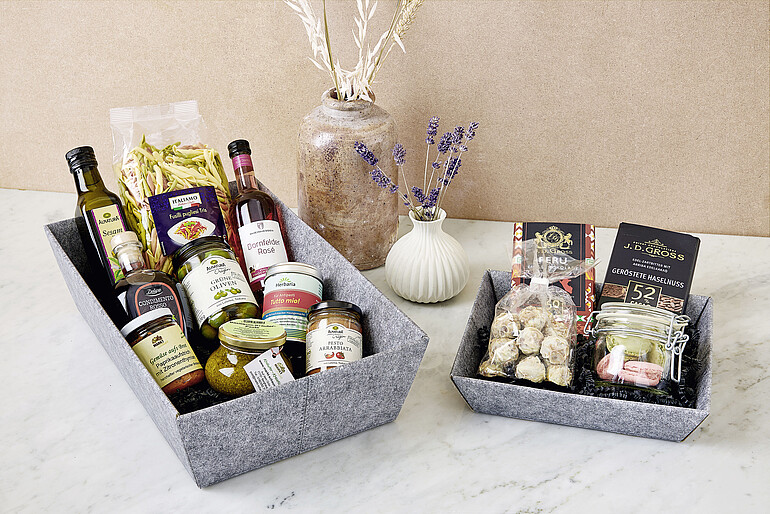 Gift basket and gift tray Filz
The name says it all: Filz is the German for felt and this design delights with its accurate detailing and velvety feel. The texture of felt has been recreated in a deceptively real way, as have the decorative seams. Let this new neutral design inspire you. You need to see and feel it yourself – request a sample!
The Filz design is available as a rectangular gift basket in the sizes small, 190 x 140 x 100 mm and medium, 330 x 190 x 110 mm, and as a rectangular gift tray in the sizes small, 205 x 170 x 55 mm, and medium, 340 x 170 x 60 mm.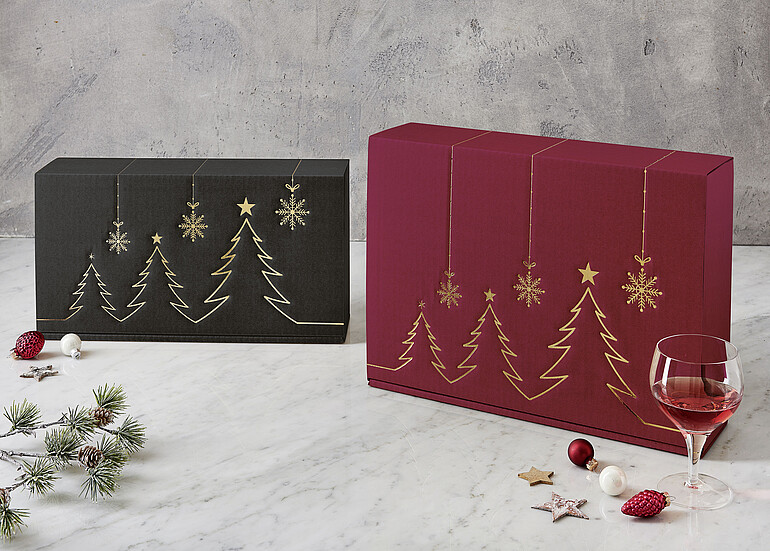 Tannengold
The basis of Tannengold is a festive bordeaux red in a matt PURE line look. Golden fir trees and stars hanging on gold chains are embossed across the entire front. The design is understated, in keeping with the PURE line range, and can be used for any occasion during the festive season.
The Tannengold design is available as a 2 or 3 bottle wine gift carton, 360 mm.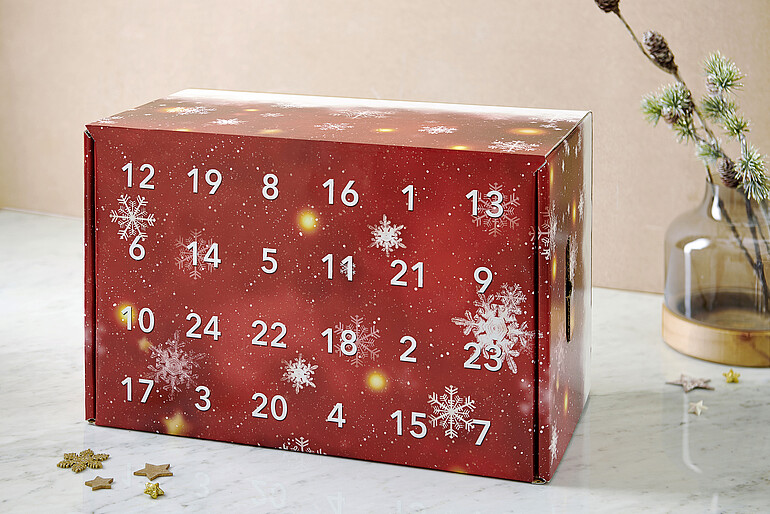 Leise rieselt der Schnee
Our new Christmas advent calendar can now be used for a variety of occasions and contents. Inside, the included dividers make it easy to fill and separate 24 small gifts. In addition to small bottles, the calendar also allows you to include lots of other little surprises. The design is characterised by its festive red colour and light snowfall, and increases the anticipation of Christmas. Lines with stars are printed on the snow-white reverse for writing your personal Christmas wishes and greetings.
The Leise rieselt der Schnee design is available as an Advent calendar for 0.25 l wine bottles, 0.2 l sparkling wine bottles, or a mixture of both, as well as many other small Christmas surprises. The diameter of the round doors measures 60 mm, the depth of each compartment is 240 mm.