Your reliable specialist for environment/natural products sector packaging
Perfect when it comes to performance and sustainability
"We have come to value Karl Knauer's performance. The theme of sustainability is also a crucial point for us. This is why with Karl Knauer on site, we have formed a very positive impression of the company. We always consider it important, not only to work together with suppliers, but with partners".
Jörg Grüner, Purchasing Manager, W. Neudorff GmbH KG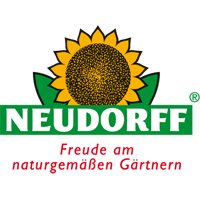 Environment/natural products: Which packaging for which product?
Security and convenience are prime considerations - for the filling process and the user: we are your packaging supplier. We take a precise, requirements-based approach and construct special solutions generally based on folding boxes; we also offer different formats, such as bag packaging, blisters or cardboard sleeves. During the consultation process, we work with you to find the perfect packaging. And because appearance counts at the POS, we also search for perfect refinement.
Folding cartons with integrated lining
Secure packaging of powders and granules: our folding boxes with integrated linings offer comprehensive protection against damp, loss of scent, light and oxygen. The folding box is equipped with a lining before the glueing process. This packaging type is highly recommended for automated, highly streamlined packing. Whether for organic seeds and fertilisers, or for the use of herbicides, fungicides and pesticides, inner lining folding boxes guarantee protection for both the contents and the consumer.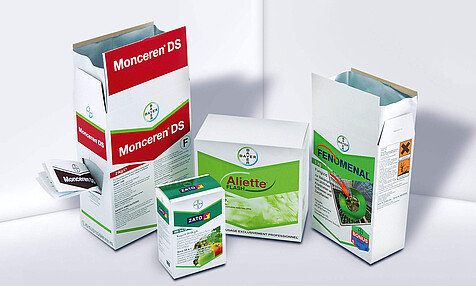 Folding boxes with sprinkling and pouring devices
Preserve quality and measure out precisely: our folding boxes with sprinkling and pouring devices protect both product and user in one. They are available with and without resealable openings; with original seals, they guarantee the shelf life of the product over the long term. The individually-constructed opening and pouring types ensure precise measuring in the dosing folding box. In addition, easy handling and economical use are convincing sales arguments.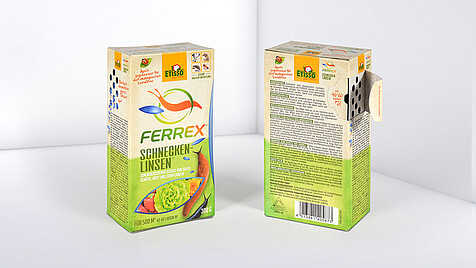 Spill-proof packaging
Keep perfectly sealed: our spill-proof packaging offers the best results for direct filling of powders and granules. For technical reasons, minimal openings from which powdery and fine-grained contents can escape cannot be completely ruled out in a standard folding carton. Our special designs guarantee perfect sealing and therefore perfect security. Spill-proof packaging is available both with and without an inner pouch.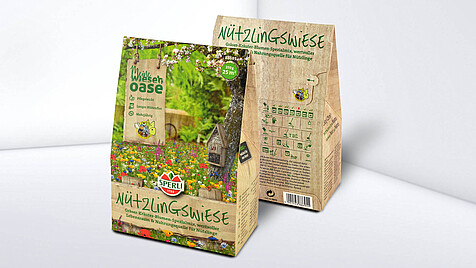 Cardboard measuring cup
Simple measuring, improved energy balance: our patented cardboard measuring cups are real environmental heroes. As a supplement to the folding box or as a canister attachment, they handle the dosing of powders and granulates; scaling is individually adapted to your product. Delivered flat, the measuring cup saves logistics costs. It scores points at the POS as an alternative to plastic measuring cups. After use, it can be folded together and stored to save space.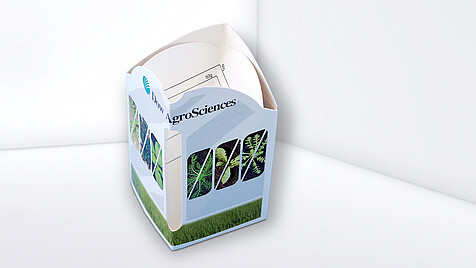 Packaging for hazardous goods
Ensure UN approval for hazardous goods: packaging of dangerous goods in liquid or solid form must meet defined safety requirements. Hazardous goods require UN approval for transport. The German Federal Office for Materials Testing checks packaging for factors such as sealing, impact resistance and extreme temperatures. We can take care of the registration process on your behalf.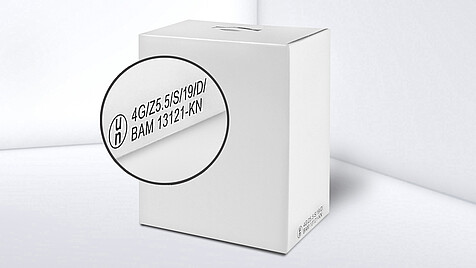 Why is Karl Knauer your partner for production of your environmental/natural product packaging?
In-depth product knowledge: Many years of experience in the environmental/natural products sector, synergies from other sectors, wide range of packaging with sealing, protection and barrier function.
High barrier competence: Current range with around 20 different barrier qualities and materials - from ALU, EVOH all the way to paper/PE.
The number 1 for linings: The leading, system-independent manufacturer of lined folding boxes in Europe, essential for environmentally sensitive packaging.
Customer-specific filling and closing technology: Wide range of expertise for mechanical engineering filling options, adapted to the technologies used.
Eye-catcher at POS: Consultation and implementation of environmental/natural products packaging aiming at the highest possible impact at the POS.
Sustainability: Cardboard and paper instead of plastic as an organic contribution to the environmental/natural product sector - from a company that implements sustainability at every turn.
Certifications: All certifications for the environmental/natural product sector are present: Hygiene, quality, environment and energy management.
Perfect protection, unique convenience or strong performance at the POS - we develop and produce packaging that brings your product or brand to the fore. We would be delighted to advise you!