Packaging design as a success factor
Packaging's design future is all about presenting products, creating a brand feeling and setting trends. Besides functions such as protection, product safety, eco-friendliness and convenience, both packaging design and 'unboxing' have a particularly high relevance.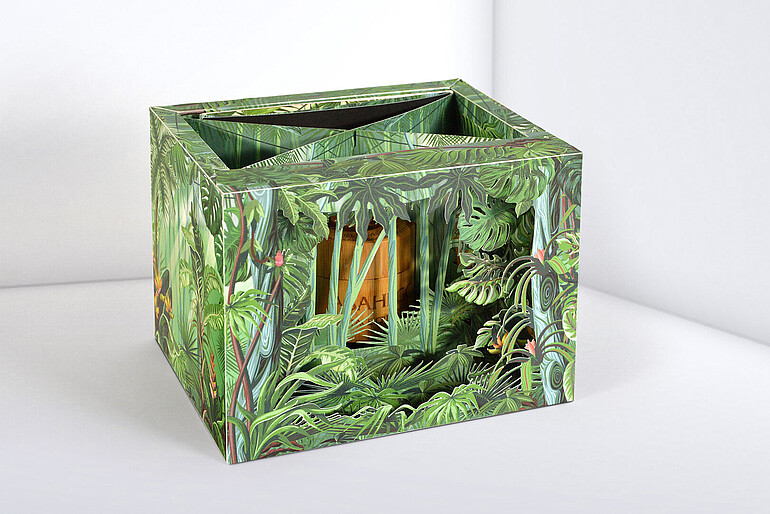 Unboxing with 'wow effect': The diorama presentation box by ASAHEGO takes us on a trip into the depths of the jungle when we unpack it. With many elaborate details such as a filigree curtain of plants on four depth levels, it tells an unbelievable but true story of the discovery of a nearly-forgotten yet magical recipe for beauty, shared only by word of mouth. A high-end cosmetic produced exclusively by The Creammaker in a limited edition.
4 factors for successful packaging design
Why is custom packaging being used for more and more products? What do companies need to pay attention to when planning successful packaging? If you take the following four packaging-related factors into account, you will carve out a competitive edge on the market for yourself with impressive product packaging:
Product safety as a design factor: First of all, the packed product must be protected and secured for transport. This area also includes the safety aspects of sensitive products such as food. Many structural, design and finishing techniques for ensuring counterfeit protection have also become an integral part of modern packaging design in recent years. Last but not least, information that must be printed on packaging by law is important.
Convenience as a design factor: Easy opening, effortless reclosing, child safety, user-friendliness for elderly consumers – all these aspects are added values that are incorporated into successful, future-proof packaging design.
Sales promotion as a design factor: The packaging must set the product apart from the competition and successfully showcase the selling points. It is a carrier of emotions, an ambassador, a sales platform and an eye-catcher at the POS. A company secures that all-important edge on the sales shelf and a brilliant boost on the market with a brand-strategic design and ground-breaking, technically skilled implementation.
Budget as a design factor: What costs are involved and for which components? Seek relevant advice early on! The choice of material, type of packaging, printing (e.g. special colours), finishes and print run all significantly influence production costs. This naturally includes the pricing strategy and product positioning, as well as how much customers are willing to pay. Added value tip: Harness the effect that more elaborate packaging has, because it usually also increases consumers' willingness to spend more on the product.
Good packaging design. What matters:
Type of packaging/shape: Form follows function. Form follows product. The packaging shape naturally has to match the product and its target group, as well as the presentation and usage location. Is the product on the shelf? Is it being distributed online? Is there a special promotion campaign planned? What is the result of the competitive analysis? The answers to these questions form the foundation of the packaging design.
Packaging material: How sustainable should it be? What must the material guarantee? The likes of the product weight and transport route have a decisive influence on the packaging's design and structure. The choice of material for product packaging – including the likes of virgin fibre-based board, recycled cardboard or particularly sustainable grass cardboard or cardboard from agricultural waste – will be different depending on how temperature-resistant the material has to be, how much moisture it can tolerate or even how wet it can get.
Packaging size: How large should the packaging be? How much space around the product is reasonable? What is the right size? Does the packaging have to ensure serial use, and does it have to be adapted to other product sizes? Folding box experts and designers develop efficient, sustainable concepts for such issues, generating substantial savings in terms of transport volumes and costs!
Packaging design: From design trends and branding, to creativity and the logo, packaging design is hugely diverse. First and foremost, the design should match the product and the brand, potentially picking up on design trends. Packaging design that appeals to consumers on an emotional level and stands out from the competition on the shelf is particularly promising. Designers achieve this by using many techniques, such as the use of colour, typography, images, scent, light, structure, finishes, embossing, glossy foils, punching, and more besides. Packaging experts and designers will advise you on the latest trends.
Convenience: Convenience, user-friendliness and added value are all factors that are taken into account when considering packaging's convenience. How should the packaging be opened? Do we need a reclosing mechanism? Who is opening the packaging? Children? Elderly consumers? Do we need a pouring opening? What about storage and disposal options? Can we generate a second benefit? These are all questions that are relevant for packaging designers when it comes to convenience.
Packaging functions: Packaging fulfils a variety of functions. Depending on the product, one function or another is more pronounced. In this respect, we are looking at the likes of application safety, protective function, transport requirements, storage function or marketing function. The packaging design must take functional focus into account to a large extent.
Packaging information: Legally required statements and information (for example ingredients, expiry date, country of origin, quantity information, nutritional information for food, and so on) must be provided on packaging. You naturally need enough space to provide marketing information and product descriptions too. The company logo, pictures of use and additions such as NEW or ORGANIC are also often components of the information sections, for which there should be sufficient space on the packaging. So the designer should take these factors into account when creating the packaging design.
Packaging price: When budgeting for a packaging project, you have to take many factors into account and incorporate them in your calculations early on. Your packaging manufacturer's range includes all the cost-related parameters, such as design planning, printing, choice of materials, packaging type, cut, finishing, processing, packaging units, delivery or scheduling.
The dos and dont's of packaging design
Do:
Carry out a market/competition analysis in relation to packaging. This is a hallmark of a good packaging manufacturer.
Analyse the product to be packed: Find out extensive information about the target group, characteristics, area of use and brand strategy
Search for a competent packaging manufacturer: seek advice, use finishing options, choose materials and develop individual packaging. Or opt for (affordable) standard packaging.
Examine the legal aspects: What required information must be printed on the packaging?
Don't:
Neglect the budget and consumers' willingness to pay a certain price
Create a design solution that does not reference the target group and the product
Underestimate your company's brand image and corporate identity
Disregard consumers' handling and convenience requirements
Unusual packaging designs
Black Panther. A big stage for film promotion purposes. With spectacular packaging based on the HiLight – smart LEDs® lighting technology, PepsiCo has successfully staged an advertising coup among influencers for the Black Panther promotion. Packaging for a beverage can was given a Black Panther (Marvel) design and finished with light choreography, embossing in all of its variety and sophisticated folding mechanisms. The target group's response unboxing and the concept going viral made this concept a tremendous success.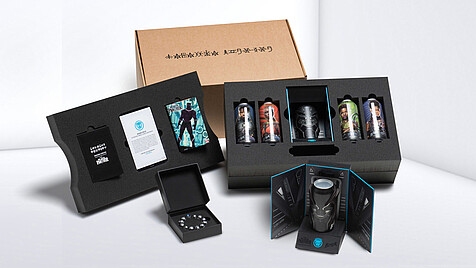 Let us take a look at Kneipp as an example: Unusual sliding packaging with an exceptionally appealing shape showcases the product set for Kneipp's bath products. An individually designed inlay as part of the packaging design keeps all the components in place when the packaging is opened.

All-round packaging for Bauernfeind's premium sports socks line: Innovative wraparound packaging with soft-touch varnish. In addition to a modern, attractive design, the packaging includes a sliding function and finger holes for easy handling. Features such as integrated theft protection and flexible hanging options for perfect product presentation make the sales packaging particularly successful.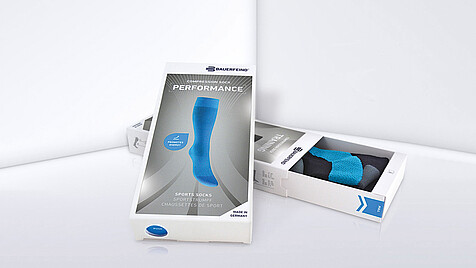 When it comes to fruit and veg, the majority of Kaufland customers want to avoid plastic packaging. The trading company has responded to this requirement and used cardboard trays comprising up to 25% green waste for its K-Bio series. This material is fully recyclable and has an even better carbon footprint compared to traditional cardboard. The bio-placement in this product packaging is expressed even more strongly.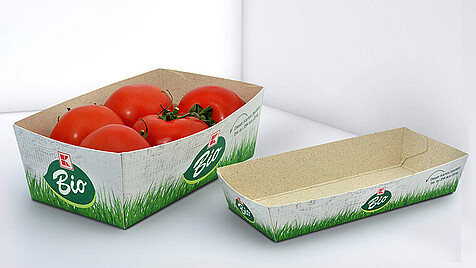 For its 'elline Switzerland' beauty product, Swiss Premium Cosmetics AG, is the first company in the cosmetics industry to use the spectacular possibilities that using light in or on packaging. The illuminated packaging based on HiLight – smart LEDs® technology ensures that both the customer's complexion and her eyes will light up on opening the box.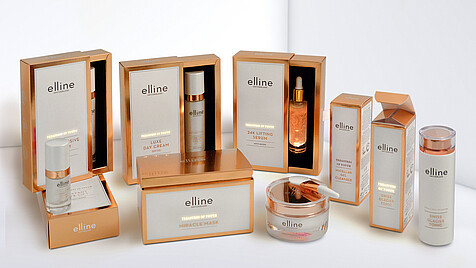 Unusually beautiful packaging not only transports the product inside, but also enchants and transports us into another world. In the case of ASAHEGO, the multi-level unboxing experience, the story-telling "from the depths of the jungle" and the emotional product staging take us into the jungle of New Guinea. The combination of individual packaging and well thought-out design and clever construction opens up associations and experiences for customers that remain in their memories.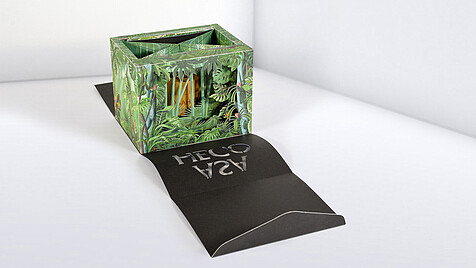 Packaging design at a glance
Safety: Products must be well-packed and secured for transport. They must have a tamper-proof structure and design. And they should contain all the information required by law.
Convenience: The packaging should be easy to open and close. The presentation must meet the target group's needs and have as much added value as possible.
Marketing: The packaging should stand out clearly from the competition. Via the packaging design, material, structure and eco-friendliness. It can stand out as a multi-sensory marvel and incorporate special features due to many parameters (logo, colour, varnish, feel, scent, shape, writing, lighting, optics). It should fit the company's or product's brand strategy perfectly.