Innovative packaging for tomorrow
Sustainable, functional and useful, innovative packaging clearly follows the consumer trends of the future. Companies that manage to develop new, sustainable packaging solutions will secure a major market advantage. After all, customer demands with respect to sustainability are increasing enormously. Sustainable packaging concepts featuring innovative materials and designs with minimal material consumption will be winners in the future. In the future, sustainable packaging will be just as innovative, incorporating additional benefits, smart designs or even integrated lights like our HiLight – smart LEDs® technology – for successful brand presentation at the POS.
Innovative packaging materials
Packaging will become more sustainable in the future, with cardboard gradually replacing plastic. As a packaging manufacturer for over 80 years, we know that cardboard as a packaging material is sustainable in itself. But the packaging industry is going much further: new packaging materials are enabling a new category of sustainability in the packaging of brands and products. Innovative packaging materials are on the rise - read how you can achieve more sustainability in the future with innovative packaging concepts.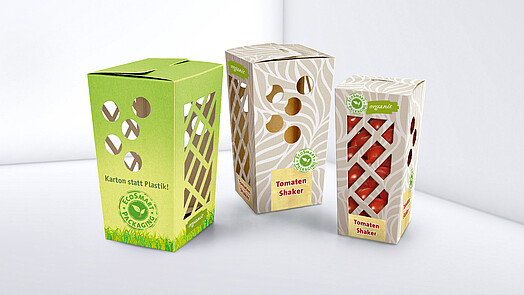 Cardboard from agricultural waste
In the future, innovative packaging will increasingly incorporate raw materials from agricultural crop by-products, including the likes of the stems and leaves of crops such as rice or cereals. The ecological advantage that this packaging material offers is obvious – agricultural waste is used, which increases the degree of use of agricultural production both as food and as a raw material for cardboard production at the same time. This innovation improves the environmental footprint!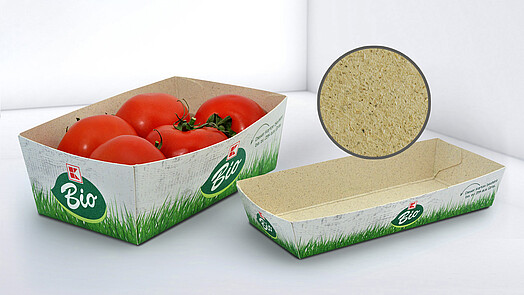 Grass cardboard
One particularly sustainable alternative packaging material is cardboard made of grass waste sourced from compensation areas or nature reserves. Grass from the region offers a wealth of ecological advantages, such as energy- and water-saving manufacturing operations and reduced CO2 emissions.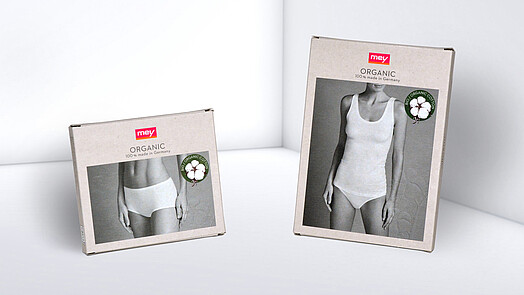 (Recycled) cardboard as an alternative
Cardboard is one of the most sustainable packaging materials because it is made from the renewable raw material wood. This makes it particularly eco-friendly with respect to extraction and production, as well as use and disposal. No other packaging solution is recycled quite as intensely as cardboard, paperboard or paper packaging. Find out about the innovative and versatile possibilities for packaging made of cardboard!
Packaging innovations for the future: This is where you will find detailed information about particularly sustainable materials.
Innovations in packaging design
Packaging does more than just protect products; it is also a key marketing and communication channel. A particularly innovative packaging design becomes an excellent eye-catcher in the supermarket and sparks customer interest. The first moment of truth is the moment when a customer sees the packaging. In the future, this brief moment must be so convincing that the packaging stands out from the ever-growing range of products in the supermarket and makes the consumer want to pick up the product. There are a variety of ways to achieve this effect – ranging from a design that stands out from the crowd, to the use of lighting effects, sound signals and scents.
Bauerfeind wraparound packaging
An innovation that extends right down to the tips of your toes: The packaging concept for sports socks attracts a great deal of attention at the POS with its smart design, flexible hanging options and perfect product presentation for retailers. The integrated anti-theft protection is a special feature: The socks are firmly fixed in the packaging by the special wraparound design with hinges on both sides, yet they can still be touched.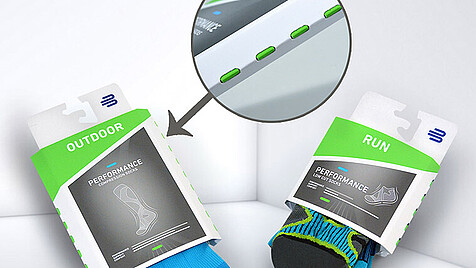 Glenmorangie whisky packaging
An innovative concept for the beverage industry: Together with Butterfly Cannon, a London-based creative agency, Karl Knauer developed a packaging solution featuring a complex finish. More than 16,000 3D holographic lenses, UV hybrid varnish and relief embossing of the logo make the packaging an extraordinary eye-catcher and a tactile experience.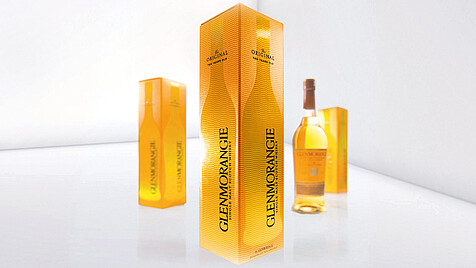 Bauerfeind sports line
Innovation that you can truly feel: The packaging material's soft-touch varnish gives the customer an idea of how comfortable the inner sports bandage will be to wear. The UV spot varnish finish also gives the impression that the product is a premium one. The packaging convenience is also innovative, because the fully integrated Eurohole attachment plus sliding function and finger holes allow for both easy and innovative handling.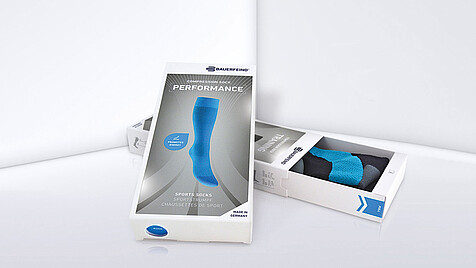 PURE line series of gift packaging
Reduction as a mega trend: Karl Knauer is developing a packaging concept that relies 100% on the cardboard material having a natural feel and effect and on avoiding plastic wherever possible. The appearance has been reduced to the absolute essentials for the new 'PURE line'. On the other hand, the natural surface also creates the perfect place for custom embossing. This is the perfect way of combining natural materials and exquisite elegance.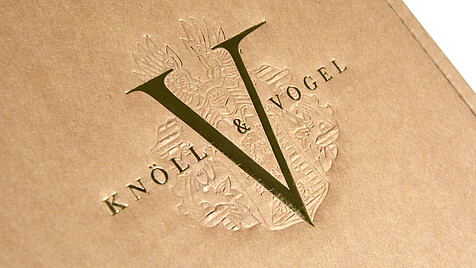 Multisensory
A natural appearance and a natural feel as innovations: The innovative multi-sensory approach to packaging helps to surprise the customer with its visual appearance and on top of that, to inspire them with its special feel. Cardboard packaging that both looks and feels like wood really does appeal to the senses. The 'natural' effect is created by a smart combination of material, printing, a special varnish and a coordinated design.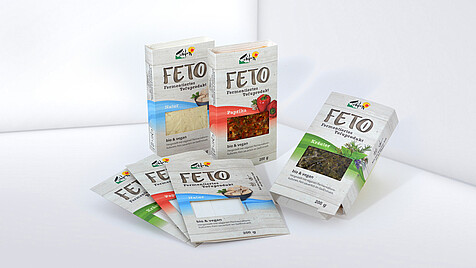 Unboxing
Wow! Opening packaging – unboxing – becomes a whole new experience. The packaging becomes a carrier of emotions. Unpacking itself becomes an experience and offers the buyer an added-value experience alongside the pure product. The product becomes a gift experience. The combination of individual packaging, a well-thought-out design and clever construction paves the way for memorable customer associations and experiences.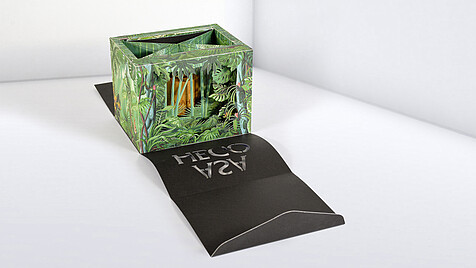 Innovative packaging with light
Integrating light into the packaging is a beacon in innovative packaging development. Karl Knauer's packaging developers create spectacular, multi-award-winning product presentations for your brand that are global sensations. Discover the new dimension!
Our Innovation Engine 7.0
7 steps to packaging
Step 1: The material is a message
Whether you opt for cardboard, corrugated cardboard or something totally brand-new, we offer a unique selection of packaging materials for high-quality packaging and develop custom-made new packaging concepts that are innovative in terms of function, appearance or sustainability.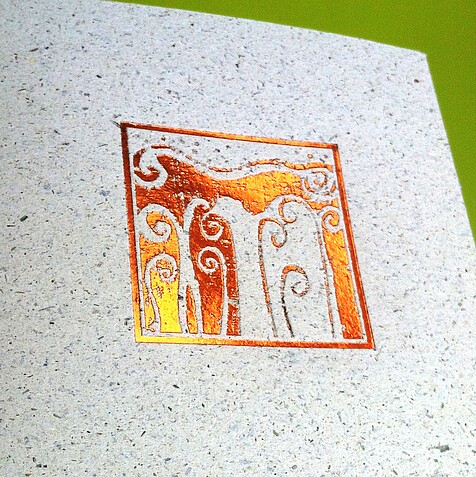 Step 2: A brand is all about shape
Stand out with something special! We can master the development and implementation processes for even the most unusual shapes and turn your individual packaging into an eye-catcher at the POS. Discover our innovative strength. We would be delighted to prepare a quote for you.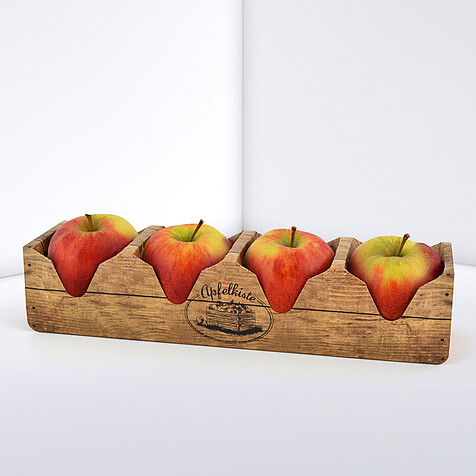 Step 3: Function creates added value

Boost sales with convenience! Individual folding boxes that are easy to open are a strong selling point. Find out about the multitude of innovative solutions for tamper-proof protection, easy dosing and reclosing product packaging.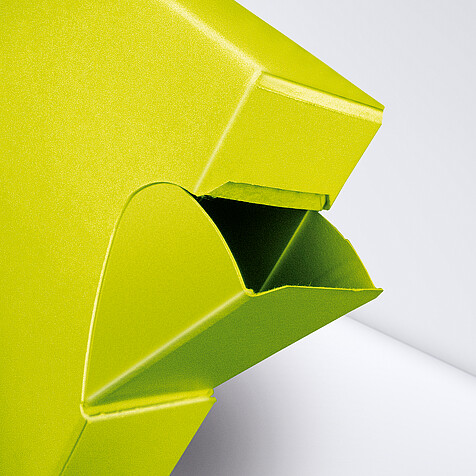 Step 4: The finish has a shiny effect
Shine with something special! With our finishes, we appeal to all the senses and create high-quality individual packaging that is sure to attract your customers' attention and enthusiasm. Contact us!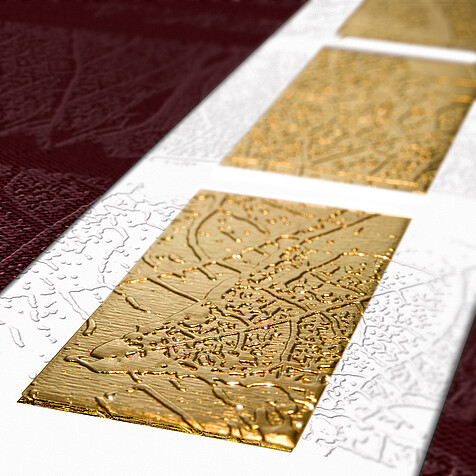 Step 5: The process is smooth
Production processes must be highly efficient. The lean philosophy determines our processes. E-business solutions, web centres or SMI optimise our everyday business. This also forms the framework for your success.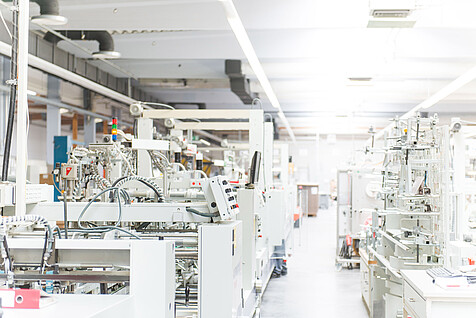 Step 6: Core values form the foundation
We attach a great deal of importance to shouldering responsibility for the environment and society. We focus on sustainability and safety – with product and brand protection, food safety, FSC® and CO2-certified solutions and carbon neutral operations at our Biberach site.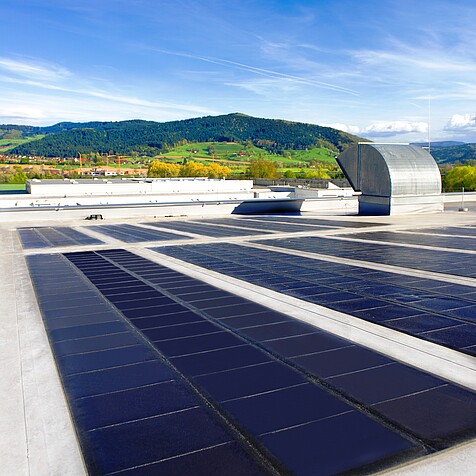 Step 7: Interactivity is the future
Being pioneers of printed electronics on packaging, we offer access to a wealth of innovative multi-sensory technologies. We are your expert partner when packaging is to be turned into an interactive marketing tool.