Your specialist for food packaging
Successful change to sustainable packaging
"Customers that value organic quality also prefer sustainable packaging. In our K-Bio series, we started using bowls that are composed of up to 25% green cuttings. Throughout the entire process, we had excellent support from the Karl Knauer team and we are fully satisfied with the end result."
Markus Mutz, Fruit & Vegetable Purchasing Agent, Kaufland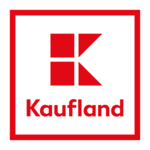 Which packaging types for which foods?
Folding boxes
Stable, hygienic, individual: Almost any box design can be chosen and implemented for optimum protection of food products. Large material selection, diverse finishing options, various base and opening variants.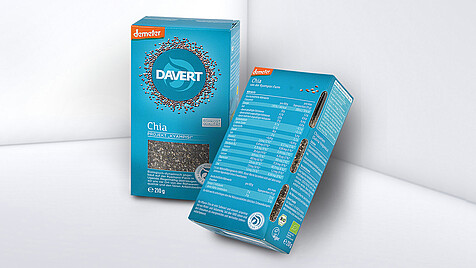 Folding boxes with patched window
Authentic product presentation: An eye-catcher at the POS that lets customers see and assess the contents. The customer can perceive the quality, appearance, mixture etc. of the product. The patched window can be realised with or without a film adhered on the reverse side.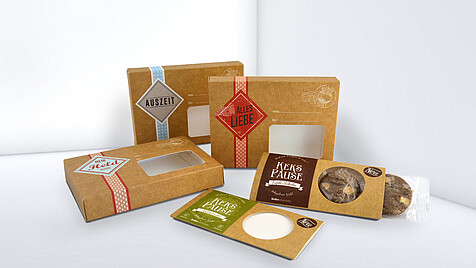 Sleeves
Less complexity, more value: Perfect supplement for existing primary packaging. Inexpensive individualisation, individual print, additional stability e.g. by means of integrated base, additional protection plus added value for the products.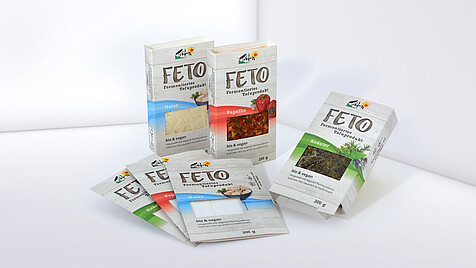 Temperature-resistant packaging
From ice cold to piping hot: We supply food packaging that protects fresh and frozen products from condensation and moisture, packaging that is suitable for the oven or microwave and take-away packaging for transporting hot food.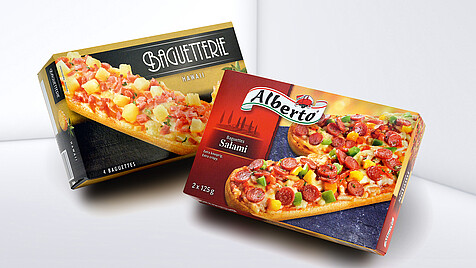 Baskets, bowls, shakers
Sustainable beats plastic: The first choice for fruit and vegetables. Our printed packaging solutions combine sustainable material with product protection. To give sensitive products optimum protection, bowls can also be designed with lids and patched windows.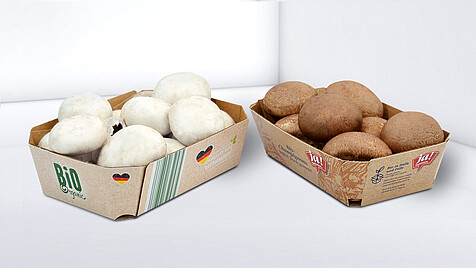 Folding boxes with integrated lining
Protect liquids and ground material: from moisture, loss of flavour, light and oxygen. Our printed folding boxes with barrier function are suitable for an automatic and highly efficient packaging process. We base our design on your packaging equipment.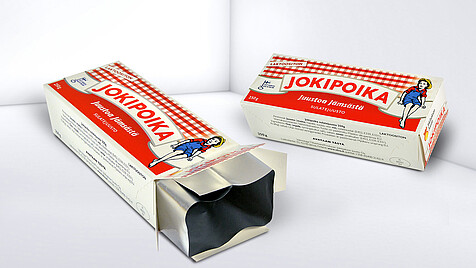 Folding boxes for perfect portioning and dispensing
Convenience sells: Many customers prefer food packaging that enables simple opening, pouring, measuring out and reclosing. We have developed numerous opening and pouring variants with convenient handling.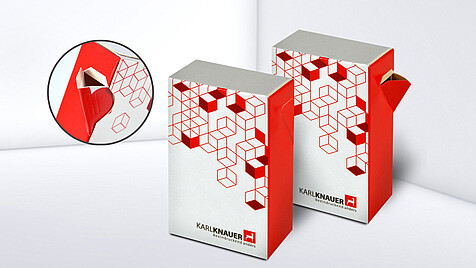 Consumers prefer sustainable food packaging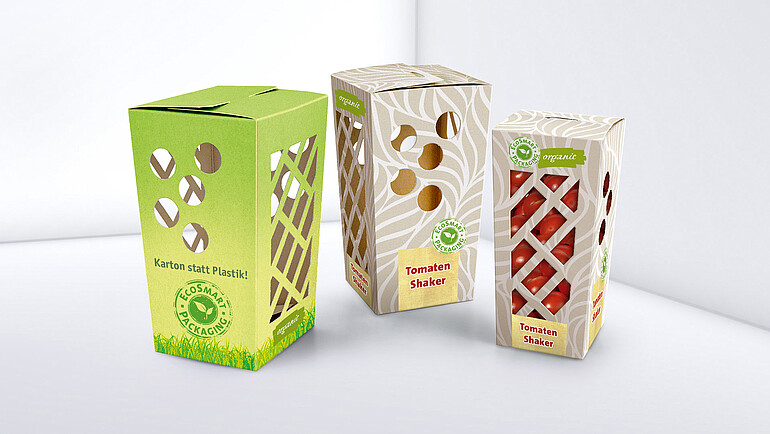 Sustainability as a megatrend: Reducing plastic is one of the most important requirements for the packaging of fruit and vegetables. As an expert in sustainable food packaging, we offer a wide range of well-designed packaging made from paper and cardboard, or from alternative grass cardboard or cardboard from agricultural waste with additional ecological advantages. The aim is always to develop consistent overall concepts that perfectly protect your products from transportation to the POS and present your brand optimally.
Certification for food safety
What makes Karl Knauer the right partner to manufacture your food packaging?
Great expertise in the food sector: Our specialist developer and consultant team perfectly match material and packaging type to your products. And to the latest trends.
Highly cost-effective: We mitigate the cost pressure in the sector with the greatest possible efficiency. Our packaging blends into your processes efficiently.
Maximum safety for food: Thanks to various safety functions, our packaging is suitable for direct contact with food.
BRC-certified in Biberach, ISO 22000 in Pniewy: Both certifications confirm top hygiene and quality in our packaging production.
Sustainability: We offer sustainable packaging in all sizes, are your partner for issues of sustainability and implement sustainability in your company consistently.
Eye-catcher at the POS: Thanks to a variety of finishing options, our printed food packaging appeals to all the senses, promoting sales and branding.
Full service: We offer comprehensive service for your project, across the entire packaging process. From lean management and order picking to mechanical engineering.
Whether it's fruit, vegetables, frozen food or bulk material – we develop and produce packaging for your requirements. We are always happy to help. Simply send us your enquiry!