Cleverly designed:
packaging solutions with wow effect
The less you have to think about when unpacking a product, the greater the amount of thought the responsible packaging designer has put into it. Because there are a lot of things to consider to ensure that a piece of packaging fulfils all its purposes; from keeping goods safe during transport and acting as an effective marketing tool through to it being easy to recycle. And that's what we do at Karl Knauer on a daily basis, working with customers from a wide range of industries. We've been doing it for 80 years now and are always at the forefront when it comes to the latest developments. So, besides knowing what makes unpacking tedious, we also know how to surprise customers in a positive way, thereby reinforcing their decision to buy.
Packaging design from Karl Knauer:
a wealth of expertise.

The key to our ability to meet all manufacturers' requirements for packaging is that we take a close look at the product in question. Because this ultimately decides what types of packaging are actually an option in the first place.
Is the product solid or in powder form? Is it food that needs to be completely enclosed or an item that you want to touch before deciding whether to purchase it or not? Is the buyer going to take the entire contents out of the packaging in one go or only a little at a time? And for how long is the cardboard packaging or folding box likely to be in use? These are all considerations that flow into the design and consequently also into the packaging's construction.
Our cardboard measuring cups, for example, are a contemporary alternative to standard plastic versions. Foldable and customisable, these cardboard measuring cups allow powder and granules to be dosed in a much more environmentally friendly way.
The wraparound design we created for Bauerfeind AG is also really clever: thanks to integrated theft protection, the sports socks can be touched at the POS, but not taken out of the packaging. Hinges in the packaging make it possible.
Maximum effects with minimal changes
While we put a lot of ideas, creativity and experience into the development of our packaging solutions, we are extremely economical when it comes to the use of materials and energy during production. When we design and develop new packaging, aspects such as sustainability, resource conservation and climate protection play a central role for us. Because of this, it often happens that we, as packaging specialists, advise our customers to reduce their packaging to a minimum. Or to create a folding box in such a way that it can be used for different types of product. The fact that such reduced packaging can nevertheless generate a lot of interest and attention can be seen by the following solutions we have realised for our customers:
LitePac Top
A simple cardboard panel is all it takes to comfortably carry even heavy 6-packs. Our award-winning LitePac Top is a prime example of how easy it is to dispense with plastic film in the drinks sector.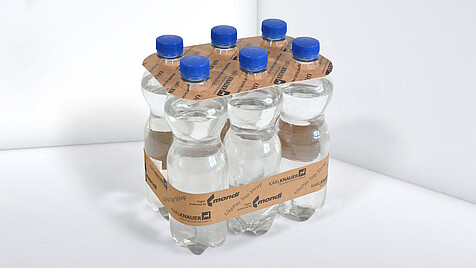 Sleeves
Cardboard sleeves offer flexibility, e.g. for different product varieties, and emphasise the eco-friendly character of products through the reduced use of materials. The gift set packaging with sleeve used by the brand Kneipp shows just how effectively this works.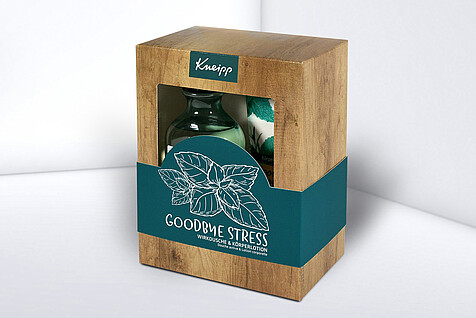 Rotating disc
And our parking disc made from 100 per cent cardboard shows that you can keep track without the need for a metal eyelet. With a different print, this design is also perfect for e-car charging time indicators, domestic sliders, pregnancy calendars and tariff finders.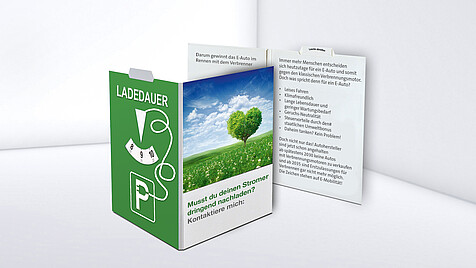 If you are looking for a clever way to package a product, then we should get to know each other. Because we are confident that we can develop the right solution for you that is everything you want it to be.