Training, studying, work experience
Why start training or studying at Karl Knauer?
Awarded apprenticeship programme of the year multiple times
Competitive remuneration
Many healthcare benefits
Modern workplaces
"Method afternoons" study programme
A friendly work environment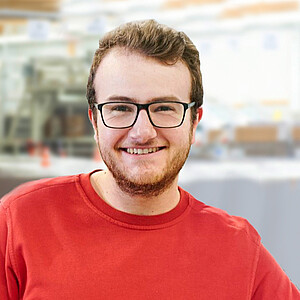 "The thing I like most about Karl Knauer is the variety. I am given things to do all over the company and the work I do in repair means I'm always dealing with new people and new machinery."
Marcus Dürmaier, Apprentice mechatronics technician
Inquisitiveness, a thirst for knowledge, dedication and team spirit – these are the qualities we want you to have. And we have a lot to offer in return.
Introduction week

Exciting trainee projects
E-car for free use
for journeys to school or privately over the weekend
Mentors in every department

Further training
Individual programme schedule
Job offer after training
To start off, introduction week awaits you, with exciting information, workshops and a day out with all the trainees. Right from the start you will be given a customised programme schedule that shows which departments you will be working in. But, of course, we ensure that you are not on your own: your trainer is always on hand to help out and give you any support you need.
Get creative: you can look forward to many exciting projects and tasks throughout your training that you can work on independently with the other trainees. For example assisting with our trainee Facebook page, trainee competitions and even small film productions.
Once they have successfully completed their training, we almost always offer our trainees permanent employment. So then there is nothing stopping you from starting your career!
Get your bachelor's degree
Studying and earning money at the same time – sounds like a good combination, doesn't it? And it is! And it is also full of variety: during your three-month practical phases, you will be working at the company, passing through the specialist departments that are important for your degree course. The theoretical phases, which occur at three-month intervals, will then be spent at Baden-Wuerttemberg Cooperative State University (DHBW).
To make it as easy as possible for you to get started, your work-study programme will begin early, on 1 September. This will give you sufficient time to get to know the other students and trainees and socialise. This period also includes introduction events and workshops, and a group barbecue.
Before your alternate three-month phases at the company and the DHBW begin, you will be given an insight into all the departments and really get to know Karl Knauer.
You can look forward to exciting practical and theoretical phases, independent work and compiling project reports, which we will support you with at all times. Satisfy your thirst for knowledge at special seminars and business simulations. And if everything is OK in the end, we will gladly offer you permanent employment.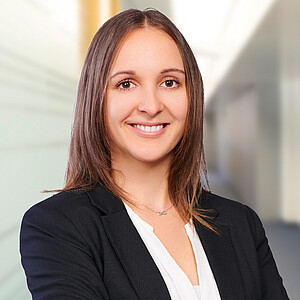 "I like working at the family company Karl Knauer as there is a pleasant and friendly atmosphere here. I have very nice colleagues who give me important jobs to do and make it possible for me to work independently."
Carina Hug, student on the Industry Business Administration work-study programme
We look forward to receiving your e-mail application with PDF documents! Bear in mind that your application must not exceed a maximum size of 8 MB and three file attachments.
Find out what career suits you best
BORS, BOGY, OIB work placement schemes, etc.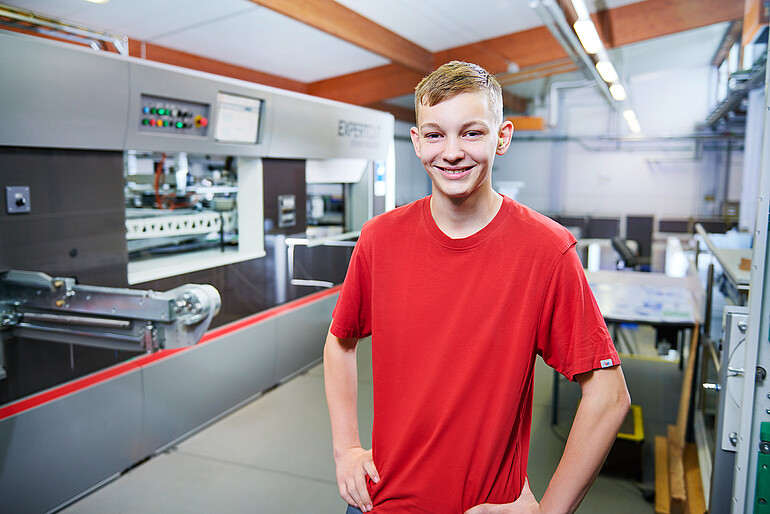 Are you still not sure what you want to do when you leave school? Or do you have an idea, but you are not quite sure if the job is something you will enjoy? Then come and try things out a little with us. In your school work placement, you can get a feel for our company, experience various areas of work and thus find your dream job.
What you can expect
At the start of your work experience placement, you will be introduced to the company as a whole and experience all divisions in a guided tour. You will then spend your time in the departments of your dream job, watch our pros at work and, where possible, have a go yourself. At the end of this journey, we will then meet up for a final review.
For work experience that is right for you
The work experience schedule is always based on our current apprenticeship trades and study courses. To ensure that your trial days are a real success, take a look to see what apprenticeship trades and study courses we are currently offering.
Do you like the sound of this? Then apply today!
Sende deine Praktikumsbewerbung an praktikum@karlknauer.de und schreibe uns auch in welchem Zeitraum und in welchen Beruf du reinschnuppern möchtest.