Eco-friendly packaging for food
Less plastic – more environmental protection. A growing number of consumers are attaching importance to eco-friendly food and product packaging. Buying behaviour is changing: Cardboard packaging solutions are gaining favour with customers, especially at the fruit and vegetable counters. While plastic trays and films still have a large share of the market, the demand for responsible biodegradable packaging is growing. Retailers are having a rethink. Find out how fruit and vegetables can be packaged more sustainably.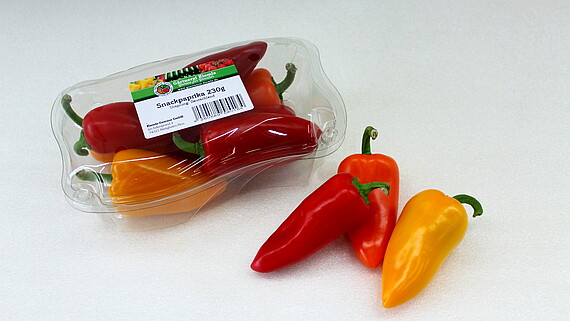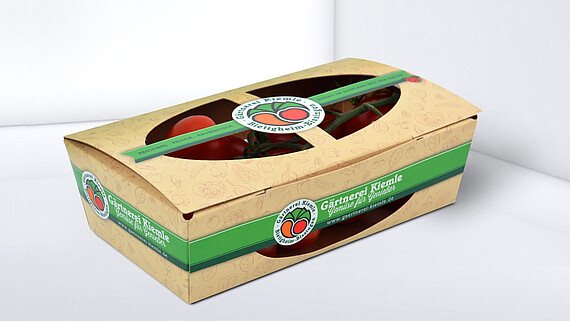 Customers are demanding eco-friendly packaging for fruit and vegetables
Market demand for sustainable and biodegradable fruit, vegetable and food packaging is on the rise. Cardboard packaging is stealing the show from plastic trays or film packaging. Ideally made of organic materials and featuring all-over printing, they offer more space for advertising messages and become a platform where you can tell the story of the content's quality and origin. Modern packaging designs provide a high degree of product protection.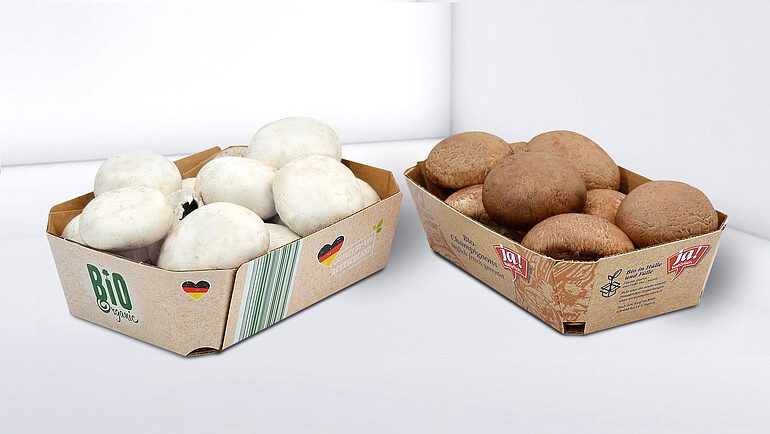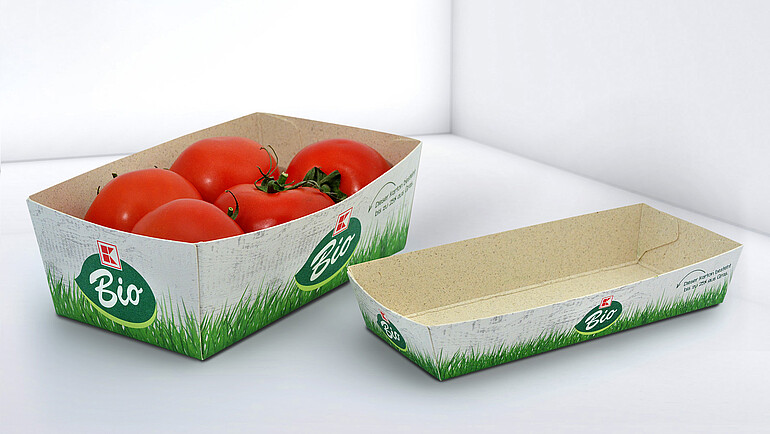 Cardboard alternatives for fruit and vegetable packaging
Classic cardboard
No product is recycled as intensely as cardboard, corrugated cardboard and paper packaging – the recycling rate for cardboard, corrugated cardboard and paper in Europe is around 81%. Cardboard is one of the most sustainable packaging materials. It is made of wood, a renewable raw material, and is manufactured in a particularly eco-friendly way. Ensure that materials are FSC® and PEFC certified when you use them. Find out about the innovative and versatile possibilities that cardboard packaging has to offer! Packaging specialists are developing sustainable packaging concepts, including resource-conserving and minimising material usage.
Grass cardboard
One particularly sustainable alternative for food packaging is cardboard made of grass waste sourced from compensation areas or nature reserves. If you use grass from the region, you will also enjoy a multitude of other ecological advantages: The manufacturing process is less energy-intensive, you cut CO2 emissions (by 25% compared to virgin fibre-based and recycled cardboard) and significantly reduce water consumption. Approximately 3 m³ less water per ton of cardboard flows through the system. An independent testing institute has confirmed that grass cardboard is suitable for packaging both dry and fatty foods.
Cardboard from agricultural waste
As by-products of agricultural harvests, the stems and leaves of crops are valuable sources of raw materials. We are talking about the likes of rice, cereals or sugar cane, and the cellulose obtained from them. The ecological advantage is obvious: Agricultural waste is reused, and arable land offers two product areas, namely food and raw materials for cardboard production, at the same time. This significantly improves the environmental footprint, and the cardboard can be recycled up to seven times. Cardboard can be used in direct contact with food with the same quality as virgin fibre-based board.
Sustainable beverage packaging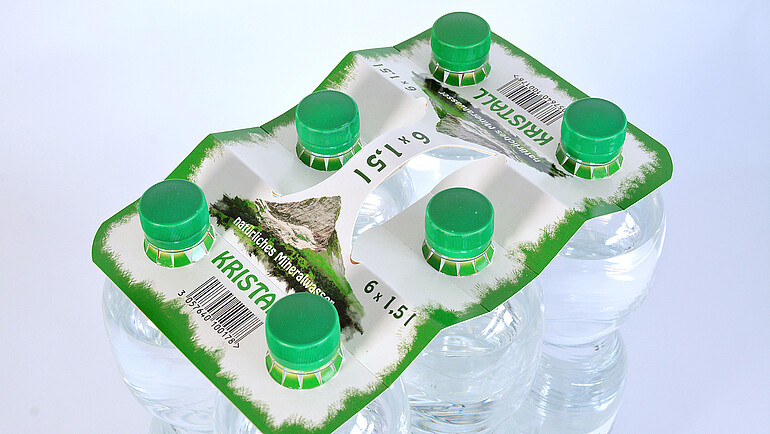 Anyone who wants to reduce plastics in beverage packaging will find enormous potential in the beverage sector. The latest innovation is likely to revolutionise secondary packaging in the beverages segment. 'LitePac Top', the box carrier, makes the shrink film previously used to package containers superfluous and, in so doing, avoids plenty of plastic pack after pack. The innovation was developed by Karl Knauer in collaboration with Krones AG, a system supplier to the beverage industry.
Instead of shrink film for beverage products, a sturdy box holds six-packs of 0.5/0.2 to 2.0 litre PET bottles or beverage cans firmly together. When adapted to the bottle or can design, 'LitePac Top' is simply attached to the top and holds half a dozen bottles or cans safely together. Strapping (i.e. a 100% cardboard binding band) provides stability for the 1.5 and 2 litre bottles.
Sustainability is a tradition at Karl Knauer
Being a family-run company that has its roots in the Black Forest, we focus on taking responsibility for people, the environment and nature. The strategic focus of our sustainable packaging development and production operations has been a company practice we have lived and breathed for decades and is anchored in our company philosophy. We specifically concentrate on the pillars of economy, ecology and social responsibility.
The sustainability leader Karl Knauer: We are experts when it comes to developing and producing sustainable cardboard packaging. Whether for food, beverages, cosmetics or any other industry – rely on sustainable packaging alternatives! We help you develop packaging that is both sustainable and promotes sales.