Producer of packaging machines and a packaging specialist
We support and advise you throughout all the process steps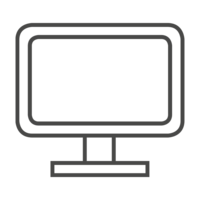 Analysis and planning
Being an experienced manufacturer of packaging machines, we support you throughout the entire planning process for your packaging line. This even includes conducting feasibility studies to implement smart packaging variants.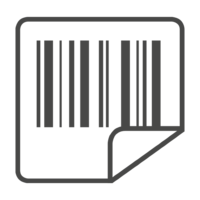 Labelling, inspection and handling systems
Whatever your products' size and shape and industry-specific features, we provide you with a cost-effective and material-efficient process solution that can be completely automated.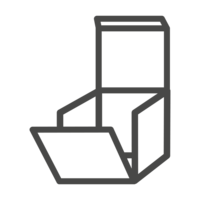 Feeding and handling systems
Our solutions ensure fully automated packaging processes and a smooth material flow. High-precision robots handle even the smallest parts in a hygienic way, without any mechanical impact
Control and inspection systems
They are an important addition to packaging machines' automation technology: Perfectly coordinated control systems guarantee constant quality control during the ongoing process. You benefit from maximum process reliability.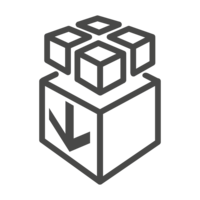 Final packaging by the specialists
To ensure that the goods reach the customer undamaged, we offer a variety of end packaging solutions to ensure that your products are packaged securely and efficiently.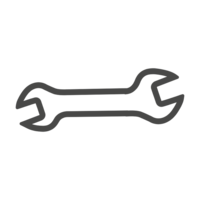 After-Sales-Service
For us, service does not stop once the machine is installed on your company's premises. Our service team looks after your machine throughout the entire lifecycle, providing maintenance, procuring spare parts, and much more besides.
Passion, know-how, perfection.
Increase your efficiency together with our mechanical engineering experts. Simply get in touch!
A partner you can count on
Being a manufacturer of packaging machines, we are the ideal partner for small and medium-sized companies
We love quality. Because we know that a packaging machine works particularly well when everything is perfect with respect to quality. Then, you'll achieve your desired efficiency effects and your processes will be reliably improved too. As such, we offer you a powerful overall package.
Packaging machines made in Germany
To enhance the efficiency of packaging processes: Before we start creating our solutions, we analyse your requirements; while implementing them, we intelligently combine common components to create your ideal packaging machine. This guarantees cost efficiency and high process reliability. For large packaging machines and for small sub-process automation solutions.
From the packaging specialist
Our packaging-related expertise means we can provide particularly practical advice when it comes to developing packaging machines and efficiently structure the manufacture of your machine. After all, we are intimately familiar with the properties of the most diverse range of packaging and know what is important.
What sets Karl Knauer packaging machines apart
Impressive advantages: Low energy consumption; affordable, modular system components; spatial flexibility thanks to space-saving, mobile packaging machines featuring your CD; planning and integration into your production layout; user-friendly, simple operation; maximum precision for professional and safe packaging.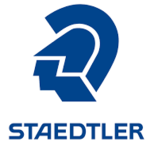 Streamlined processes: A new, specific mechanical engineering solution that was quickly developed and implemented led to considerable optimisation of the packaging process, especially during peak periods. The savings enable efficient staff deployment, even at seasonal peaks!
Our lean consulting service helps to improve processes
Better processes start with an analysis of your current packaging situation and lead to consulting, with the aim of optimising packaging processes and making them highly efficient. A seamless, fully integrated and efficient packaging process requires excellent packaging line expertise and consistent quality. Thanks to our packaging line expertise, we can develop packaging concepts and solutions that offer outstanding value for money and give you that all-important competitive edge on the market.
With Karl Knauer packaging machines, you receive a guarantee on:
Storage
Machine parts
Function
Agreed technical availability of 97% in the three-shift model
Agreed output per hour
Software update to the acceptance state
No calculation of technicians' service times if you make a guarantee claim
Optional: Production support
Hygiene as a quality factor
When it comes to high standards in food safety and product liability, a hygienic design plays a vital role. Machines, systems and components must be designed and built to the highest hygienic standards – especially when packaging food products. Karl Knauer works according to design principles that minimise structural bottlenecks for hygiene-related hazards. Materials, surfaces and design-related features always have excellent cleaning properties.
Flexibility as a quality factor
Maximum flexibility, dynamism and safety in the material and production flow: Modern packaging machines have to tackle the increasing variety of customised and personalised packaging. The Karl Knauer modular system for the packaging industry shortens the time to market and increases system availability – while delivering low complexity and efficient engineering at the same time.
Safety and service as a quality factor
Expert advice right from the start: This much is true right from the machine selection and design stage, to delivery and beyond. Our service team supports you throughout the entire machine lifecycle as part of our aftersales service, offering you maximum expertise and service with regard to operating the packaging machines. You benefit from our service team's short response times and maximum flexibility. We offer you a guarantee and post-guarantee service throughout the whole of Germany. Scheduled maintenance extends the system's service life and reduces expensive machine downtimes.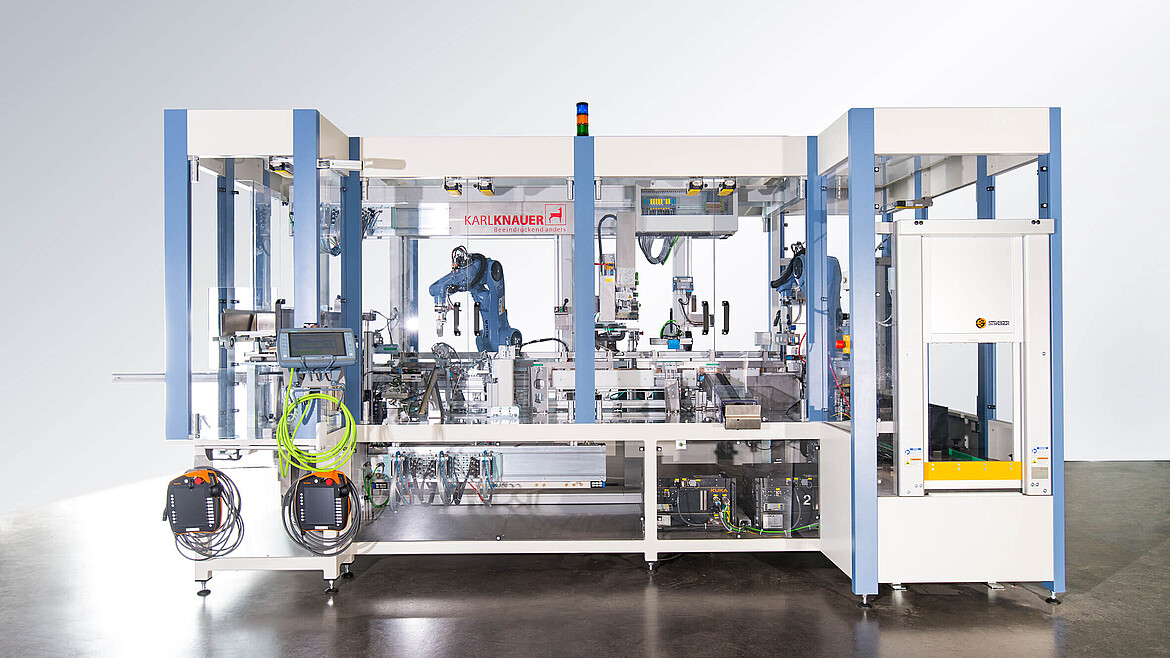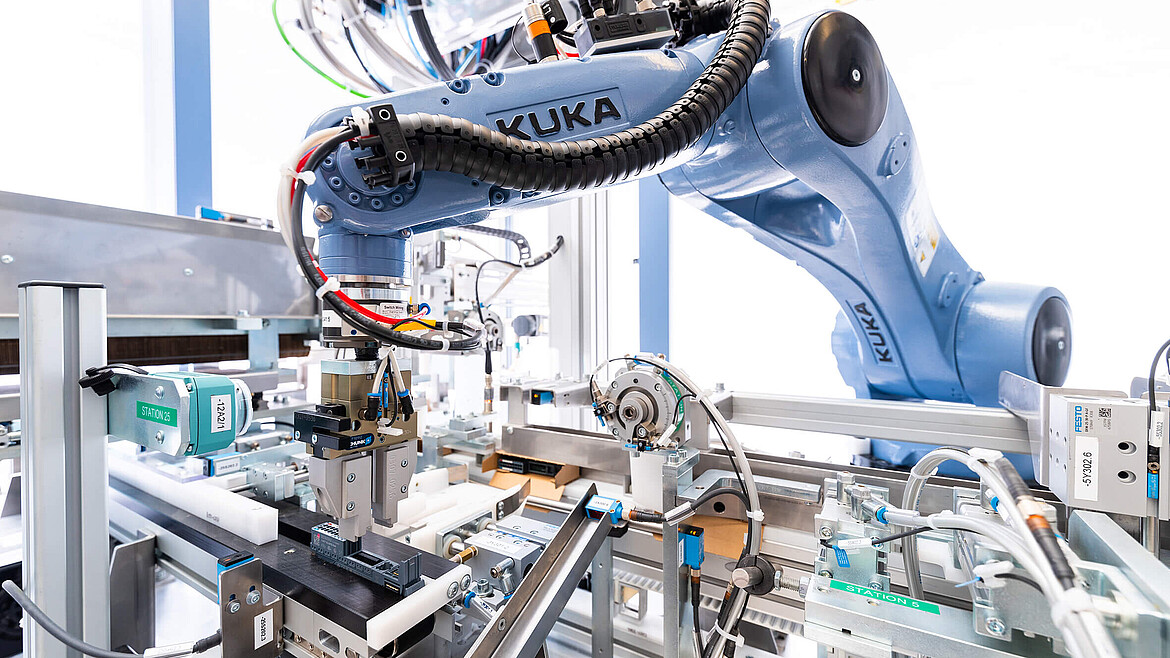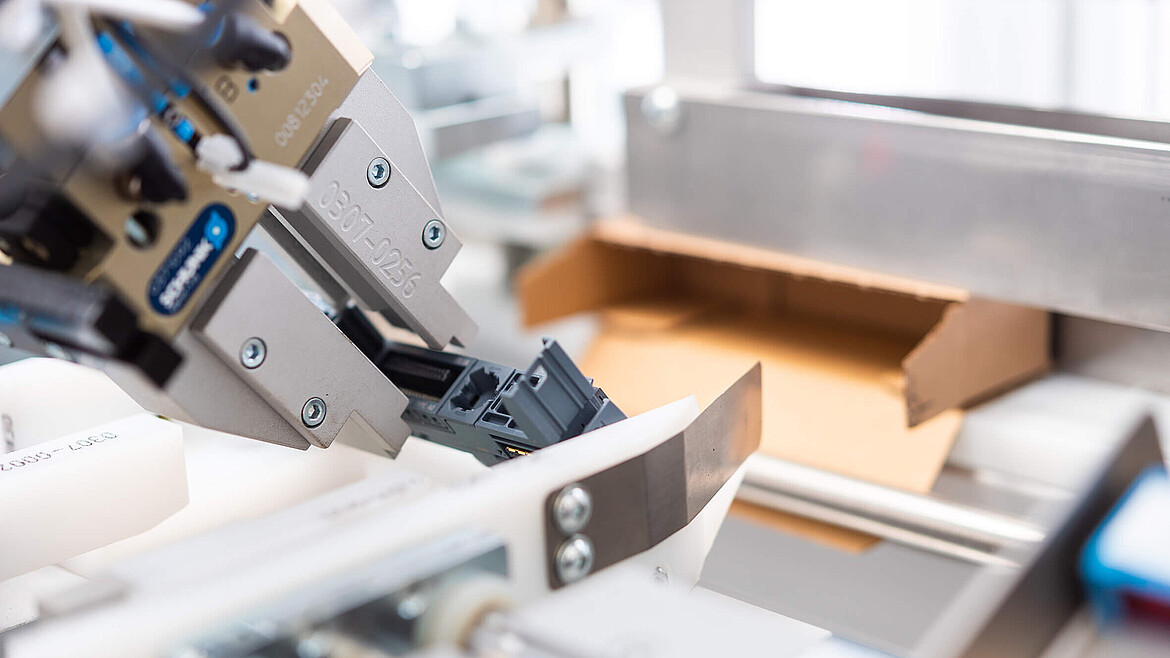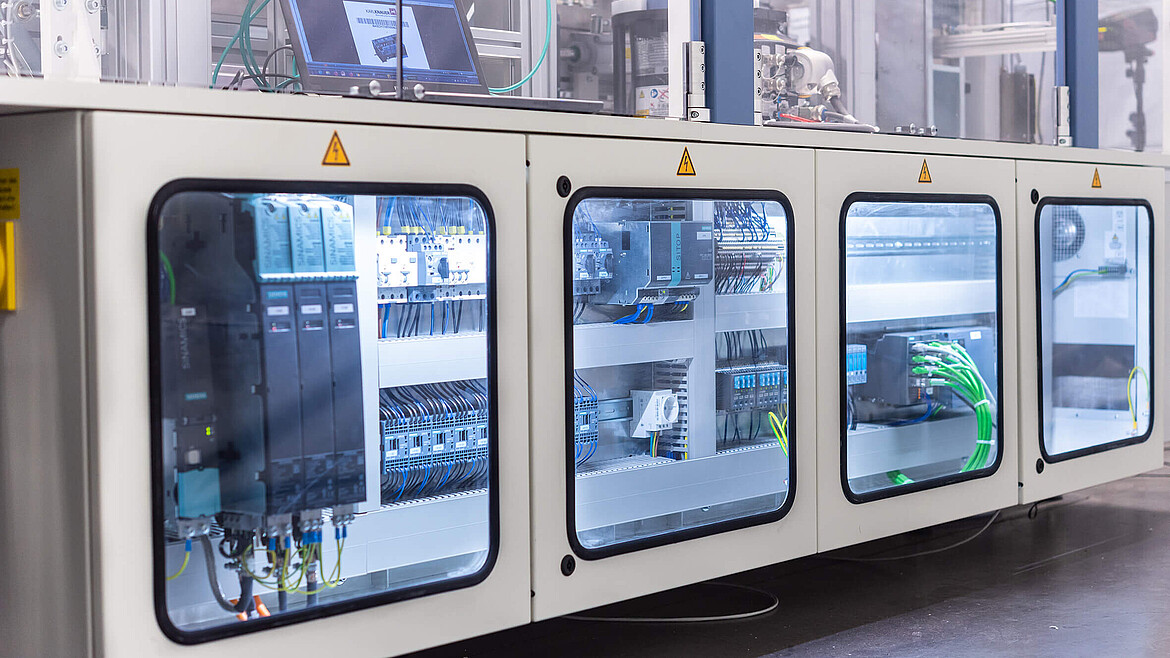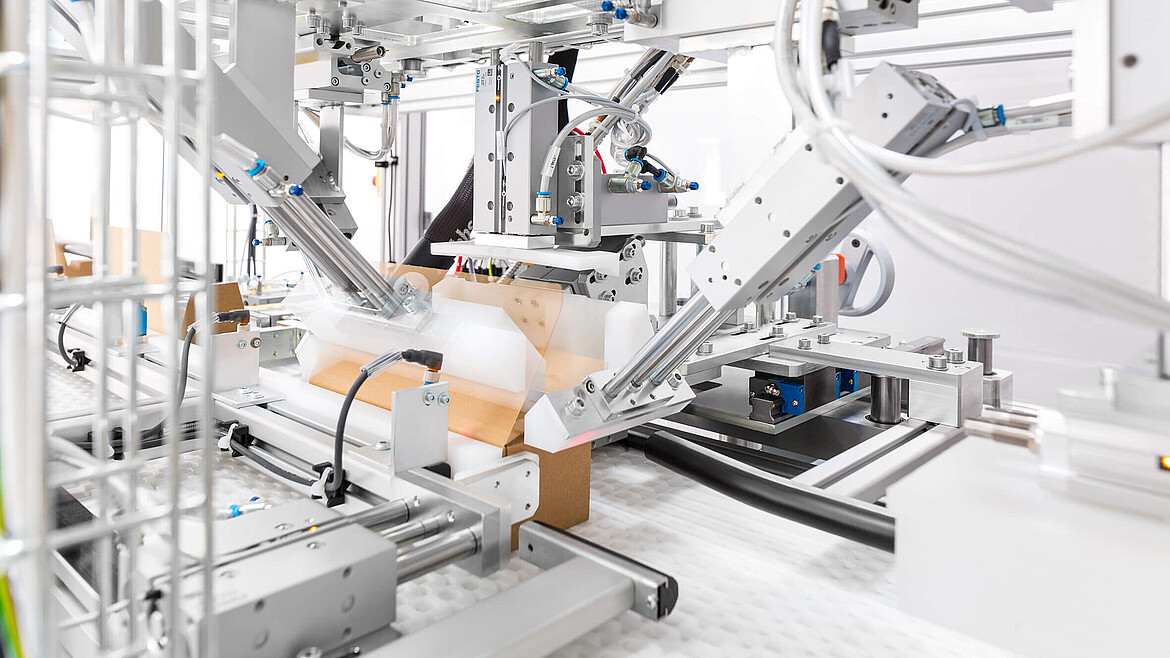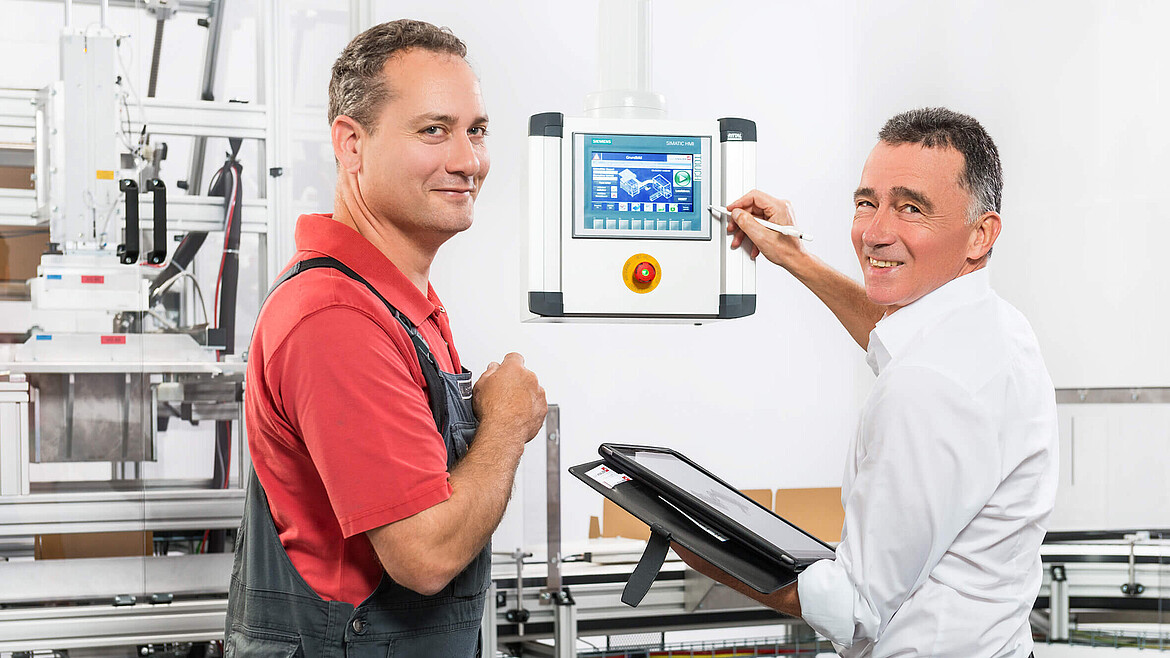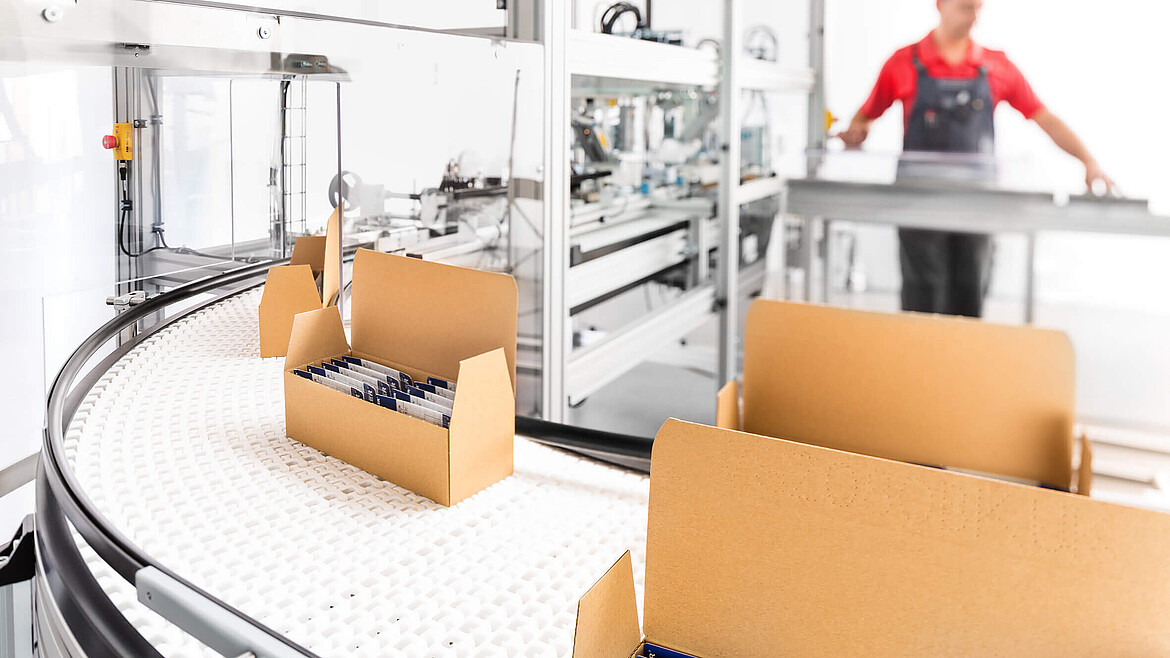 Why are we your expert for packaging machines?
Innovative, advanced technology; a high level of engineering expertise; expert advice, an extremely high level of quality, excellent service right from the start
Consistently focused on success
Our experts' outstanding personal commitment to finding the best solution; examination of all processes and adaptation to your requirements, right down to the smallest detail
This is ensured by modular, standardised system components in conjunction with individual requirements; guarantee of agreed hourly output