Your manufacturer for cosmetic packaging in Germany
Which cosmetic packaging types for which product?
For the enormous range of cosmetic products, there is a great variety of packaging to choose from: all kinds of box shapes and materials in customised designs plus finishes. The queen of the scene is the folding box. Whichever you choose, the packaging is always the ambassador of your bodycare or cosmetic product and your brand.Whether sustainable or premium – we create eye-catchers at the POS.
Folding boxes
Flexible top model – the printed folding box is perfect for customised designs:Finishes such as hot-foil or relief embossing, special materials – with a focus on pure radiant white, recycling or sustainability, such as grass cardboard packaging.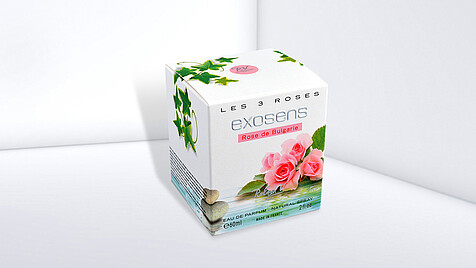 Hinged-lid packaging
For an unboxing experience: The hinged-lid box is perfect as stylish packaging for special cosmetic products. These products are presented in their entirety when the box is opened – making unpacking an experience.Hinged-lid boxes are also perfect for sets with inlays.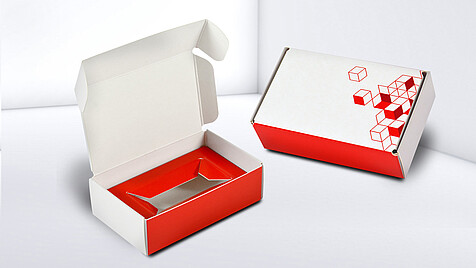 Sliding packaging
An attractive two-piece: A slider box is made up of a sleeve made from cardboard plus a core. An optional inlay indicates high value and creates impact at the POS. The sleeve, which is produced separately from the inner part, can be used flexibly.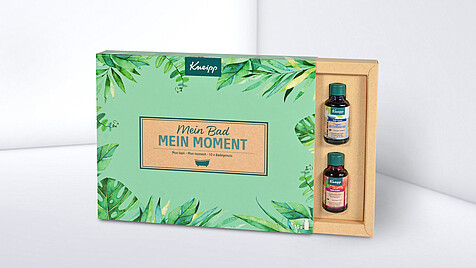 Product packaging with liner
Secure packaging for precious scents: A classic example of perfume packaging.The liner, an inlay made from corrugated cardboard with white covering on both sides, functions as cushioning and extra product protection.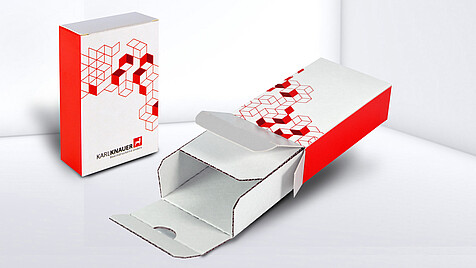 Product packaging with inlay
For special occasions: Slider boxes or hinged-lid boxes plus inlay are the perfect way to showcase promotions of bodycare and cosmetic products.They are the stars when it comes to gift sets, for Christmas, Mother's Day, Father's Day etc.
Product packaging with Euro hole display hanger
Always close at hand: Many health and beauty items or less expensive bodycare products are presented on the shelf hanging rather than standing upright. This is done by giving the packaging a Euro hole display hanger. Simply bound to boost sales!
Slip-lid boxes
Stable two-piece for select items: With an inlay, slip-lid boxes make the perfect packaging for showcasing products with an individual design.The lid that opens and closes smoothly emphasises the high quality of the content.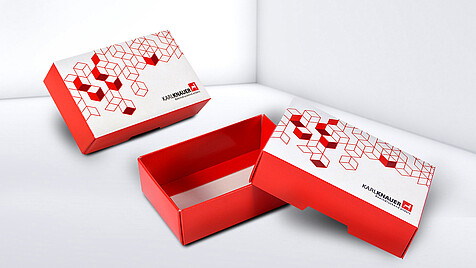 Quality-finish packaging
Highlight at the POS: Any cosmetic packaging can be given a luxurious look with finishes, e.g. with sparkling varnish, 3D lenses or integrated light. The illuminated packaging that we have developed is sure to be the centre of attention.As is your brand.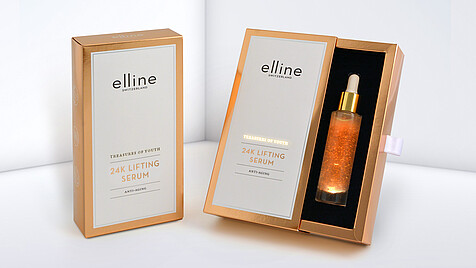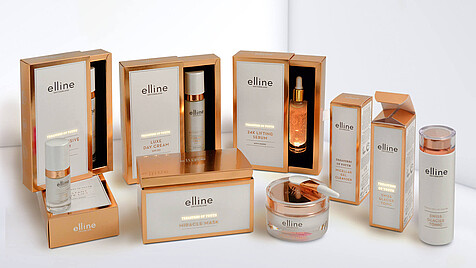 What makes Karl Knauer your manufacturer for cosmetics packaging in Germany?
Standard and innovation: Very broad portfolio of cosmetics packaging – from simple folding boxes to highly innovative creative design.
Experience and R&D: Excellence in cosmetics and bodycare packaging, synergies from other sectors, international awards for packaging developments.
Eye-catcher at the POS:Presentation of cosmetic and bodycare products for maximum impact at the point of sale.The "first moment of truth".
Large portfolio of finishes: Even greater appeal thanks to cosmetic packaging with exquisite finishing: from embossing to scented varnish and light.
Full service: Packaging management throughout all process steps. From material consultation to contract packaging and packaging machine engineering.
POS promotion tools: Extra attention for cosmetic products thanks to accessory elements like displays, decoration, wobblers, stand-up displays and trays in matching design.
Sustainability: Environmentally friendly packaging that helps to create an image fitting for a bodycare brand – for example of a manufacturer that implements sustainability in all areas.
Certifications: We have all the certifications that are relevant to the cosmetic sector (hygiene, quality). And also in the areas of environment and energy management.
Whether it's a high-quality glamour set, sustainable natural look, Euro hole display hanger or counterfeit protection – we can develop and produce your individual cosmetic packaging. Simply send us your enquiry – we will be happy to help!