Your reliable manufacturer of pharma packaging
Which packaging types for products from the pharma industry?
The classic pharma packaging is the solid cardboard folding box with offset flaps. They can be assembled easily, stored in little space, filled simply, opened and reclosed on both sides and be fitted with additional security features, and they are compatible with almost all types of finishing. Depending on requirements, we also implement other designs, such as slider folding boxes, slip-lid boxes and much more. Standard features for our pharma packaging also include Braille, patient information leaflets, internal dividers and stabilising feet.
Folding boxes with finish
Food supplements for men: Folding boxes with offset flaps, feet for more stability
on the shelf, finished with silver foil cardboard as eye-catcher. Distributed by health and beauty retailers.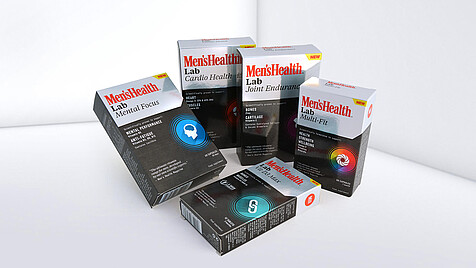 Vermonde slider boxes
Food supplements: Four-part slider folding box with foam inlay for extra product protection and patched window, finely finished with soft-touch varnish, UV gloss varnish and hologram label.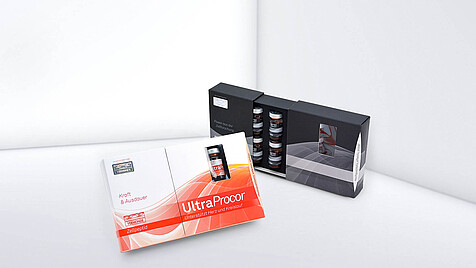 Slip-lid boxes
Vitamins/food supplement: Innovative packaging combining various finishes such as punching, visible neck and lid as self-locking box.Maximum effect at the POS.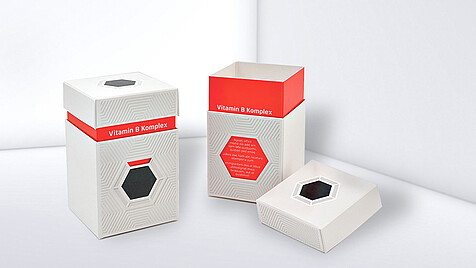 Our security strategy in four steps
Technical linking of print image and order in the ERP system, technical comparison of printing plate and print image.
Guaranteed security through linking a code specific to the order and design on the adhesive flap to the print approved by the customer.
Check of print image, Braille and binary code.
If desired, customer, order and product data printed directly on the shipping carton – instead of on a separate label.
What makes Karl Knauer the right partner to manufacture pharma packaging?
Extensive expertise in pharma packaging: Many years of experience, profound knowledge of the sector and a specialised development and consulting team make us the perfect partner.
Everything from one provider: In addition to packaging, we supply packaging inserts, labels, SRP packaging for rapid shelving and POS displays – as an efficient all-inclusive package.
Small print runs: Thanks to a special processing method in pharmaceuticals/health, we can also produce small quantities in high quality, inexpensively and quickly.
Large portfolio of finishes: embossing, foils, soft-touch varnishes etc. Extra shine at the POS is especially important for OTC/food supplements.
Highly skilled in blister cards: Many years of experience with blister packages, large selection of designs – finishes, barrier functions, clamshells and more
Product and brand protection: We are experts in effective protection for your pharma products. Our VERIDA protection system can be flexibly adjusted to suit your needs.
Full service: We provide packaging management across the entire supply chain and support from material consulting to contract packaging and mechanical engineering.
Whether it's pharma packaging with product protection or a lively OTC presentation at the POS – we can develop and produce the perfect packaging solution for your brand. Simply send us your enquiry – we will be happy to help!