Sales packaging as a success factor
The advertising appeal of packaging is becoming increasingly important. Sales packaging has considerable potential for brand building, brand loyalty and sales success. It is in direct contact with the end consumer, shortens the time taken to make a purchase decision and provides guidance at the point of sale. Packaging does more than just protect the contents; its design underlines brand values and creates a multitude of added values. But that is not all: Cardboard sales packaging is eco-friendly because it is made of renewable raw materials and, at over 80%, has the highest recycling rate of all types of packaging.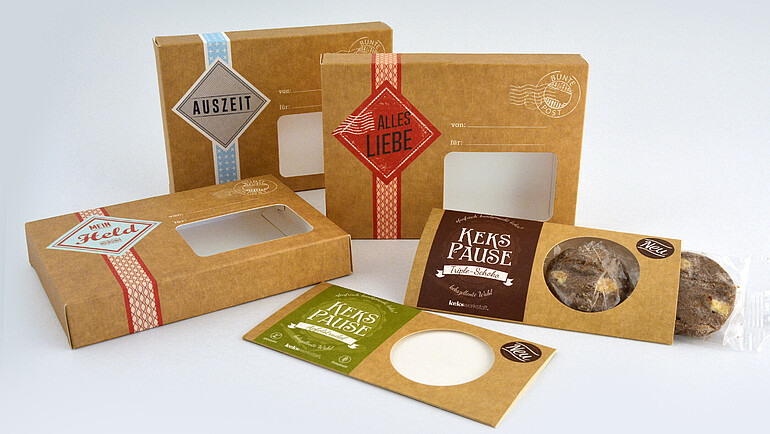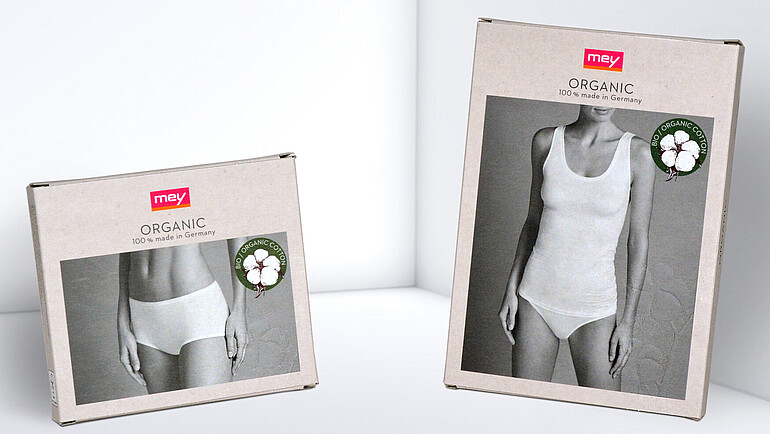 Good to know:
Sales packaging, outer packaging, transport packaging
Sales packaging protects and advertises goods in the retail trade. Its share in total packaging volume is high, and it also includes service packaging such as carrying bags and bread roll bags. Outer packaging bundles several pieces of sales packaging into a larger unit and simplifies storage, transport and sales. Transport packaging increases safety while goods are being transported.
Make sure your packaging is legally compliant: The German Packaging Act
Important note: The information provided below on the German Packaging Act does not constitute legal advice and is not exhaustive. Even though the following information has been prepared with the utmost care, we do not assume any liability for its content and correctness. So, if in doubt, please contact your solicitor's office to seek individual advice on this matter.
On 1 January 2019, the German Packaging Act (VerpackG) replaced the German Packaging Ordinance (VerpackV) that had been in place until then. Since then, the German Packaging Act has been amended twice. It is only valid in Germany. According to the German Packaging Act, sales packaging must be licensed by means of a dual system. All initial distributors of such packaging must also register with the central authority.
Sales packaging – noteworthy information
For sales packaging, the registration and licensing obligation cannot be transferred to a third party. According to the German Packaging Act, this obligation rests clearly with the initial distributor; they are the licensee. It is only possible to appoint a third party who, for example, transmits annual reports to a waste disposal company.
Who is the manufacturer/initial distributor?
The initial distributor is considered to be the 'manufacturer'. The Act defines a manufacturer as being the party that puts packaging into circulation for the first time and fills packaging with goods or the packaging filled with goods is imported from abroad that are then passed on to a private end consumer in this packaged form. Manufacturers must register with the Central Packaging Registry.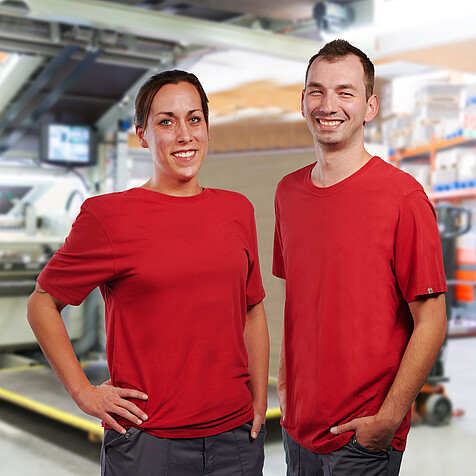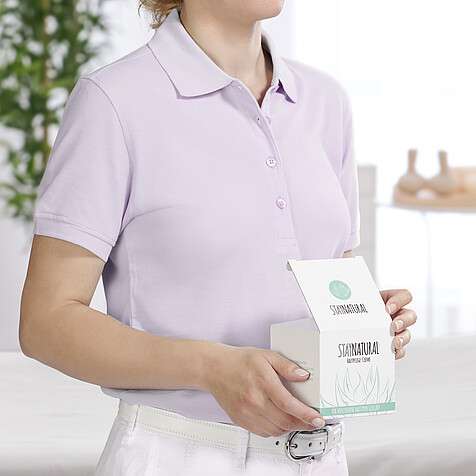 The end consumer is the party who no longer sells the goods. In addition to private end consumers, Section 3 of the German Packaging Act lists 'comparable sources of waste', including restaurants, hotels, canteens, administrations, barracks, hospitals, educational institutions, charitable organisations, freelancers, cinemas, operas, museums, sports stadiums and service areas, as well as (craft) businesses that can dispose of their residual waste using household-like collection containers for paper, paperboard, cardboard and corrugated cardboard packaging with max. 1,100 l containers per material group.
What packaging do I have to licence?
Sales packaging is packaging that is 'offered to the end consumer as a sales unit comprising goods and packaging'.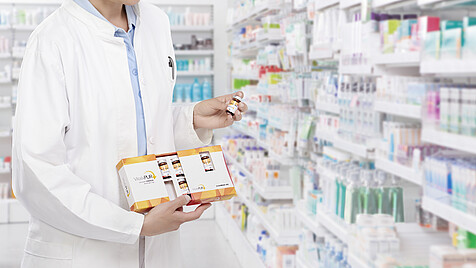 Packaging in the mail order business
Mail order packaging is also considered to be sales packaging if it is sent filled to the end consumer. It must be licensed by the initial distributor (in this case the mail order and Internet trading company, for example).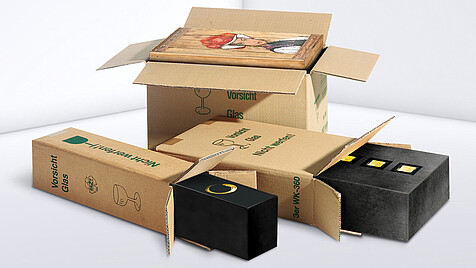 Outer packaging contains a certain number of sales units and is typically offered to the end consumer together with the sales units or serves to stock the sales shelves. Outer packagings subject to licensing are, for example, multi-piece packagings (cardboard carriers for six-packs), as they typically accrue to the private end consumer. In contrast, product displays, for example, are not secondary packaging subject to licensing because they are not typically used by private end consumers. The latter also applies to shelf-ready packaging. However, with the extended manufacturer's obligation, such non-licensable secondary packaging is now also subject to registration.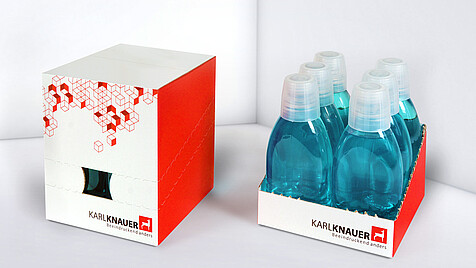 Service packaging includes packaging that is filled as soon as the products are purchased and that is absolutely essential for transporting the goods. This includes the likes of bakery bags, fast food packaging and pizza boxes. Here, too, there is a licensing obligation that can be transferred to the manufacturer of the service packaging or the pre-distributors (paper wholesalers). However, initial distributors of service packaging must also register in the LUCID packaging register if they have fully delegated their obligations to a pre-supplier.
Important: Gift packaging is not service packaging; instead, it is considered to be sales packaging when it is filled and delivered to the end consumer.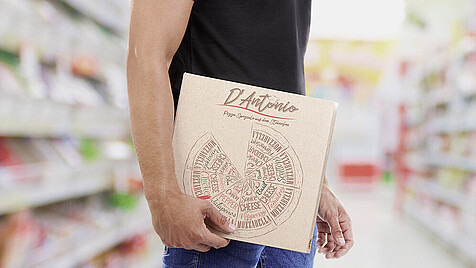 Commercially used packaging/transport packaging
All packaging that is used between companies/traders (i.e. does not accumulate on private end consumers' premises) is considered to be commercial sales packaging or transport packaging and is not subject to licensing. However, there is a registration obligation for
the first distributor of transport packaging filled with goods in the LUCID database. In addition, annual proof of return and recovery must be provided for such transport packaging in future.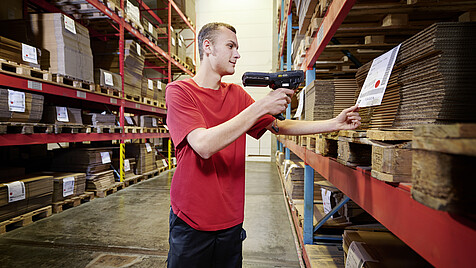 Can I transfer the registration and licensing obligation and the requirement to submit a letter of representation to a third party?
Service packaging:

In the case of service packaging (bakery bags, wrapping paper, etc.), a third party (pre-distributor/manufacturer) can take over responsibility for licensing. Nevertheless, initial distributors of service packaging must register themselves in the LUCID packaging register.

Sales packaging:

For sales packaging, the registration and licensing obligation cannot be transferred to a third party. According to the German Packaging Act, this obligation rests clearly with the initial distributor. A third party who, for example, transfers annual reports to a waste disposal company can only be appointe However, the licensee is always the initial distributor, since only they – and not the third party – know what packaging enters the German market in what quantities as sales packaging and therefore has to be licensed under a dual system.

Other types of packaging:
The obligation to license and register cannot be transferred to a third party.
Karl Knauer's packaging experts will be delighted to inform you of the German legal framework conditions for packaging solutions.

Packaging – your super seller – or: How to turn your product into an attention-grabber
Finishes boost buyers' acceptance of prices
Finishes are worthwhile, as they underline quality and set brands apart from the competition. They help consumers to make purchase decisions at the POS and highlight the product's value. The higher the packaging's quality, the more willing customers are to accept prices.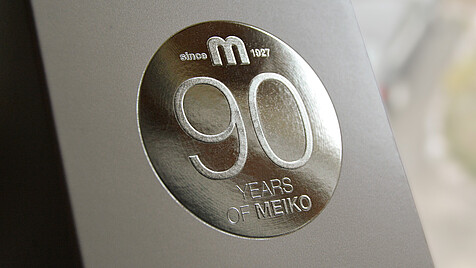 Windows simplify the purchasing decision
If someone is interested in a product at the POS, they want to see as much of it as possible, hence the trend towards open packaging. Open boxes offer more than just sufficient advertising space; they also give a view of the product that incites the buying impulse and offer optimum product protection. From partial to complete visibility – everything is possible.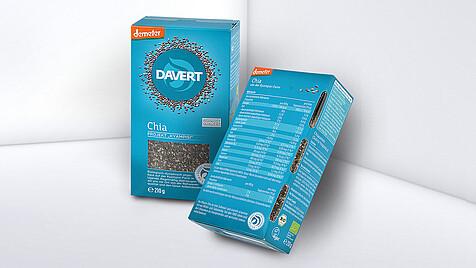 Spectacular packaging attracts all the attention
A stage for your product: Integrating light is an ideal option for contents that are particularly valuable. There are a wide range of techniques available – choose from light choreographies that last a few seconds, flashing when the packaging is opened, or light-up presentation. The options are outstanding! (280)
Discover the world of illuminated packaging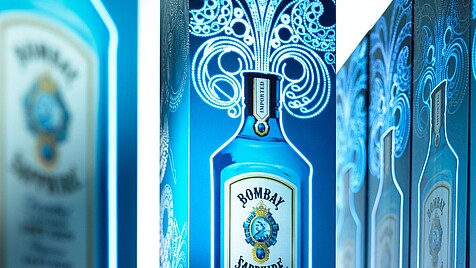 Sustainable packaging is on trend
75% of consumers state that packaging's environmental impact influences their purchasing decision. More than 50% believe that cardboard is the most eco-friendly and recyclable packaging material. 77% of consumers would pay more for greener packaging. More than half of all consumers have already switched brands because of the packaging.