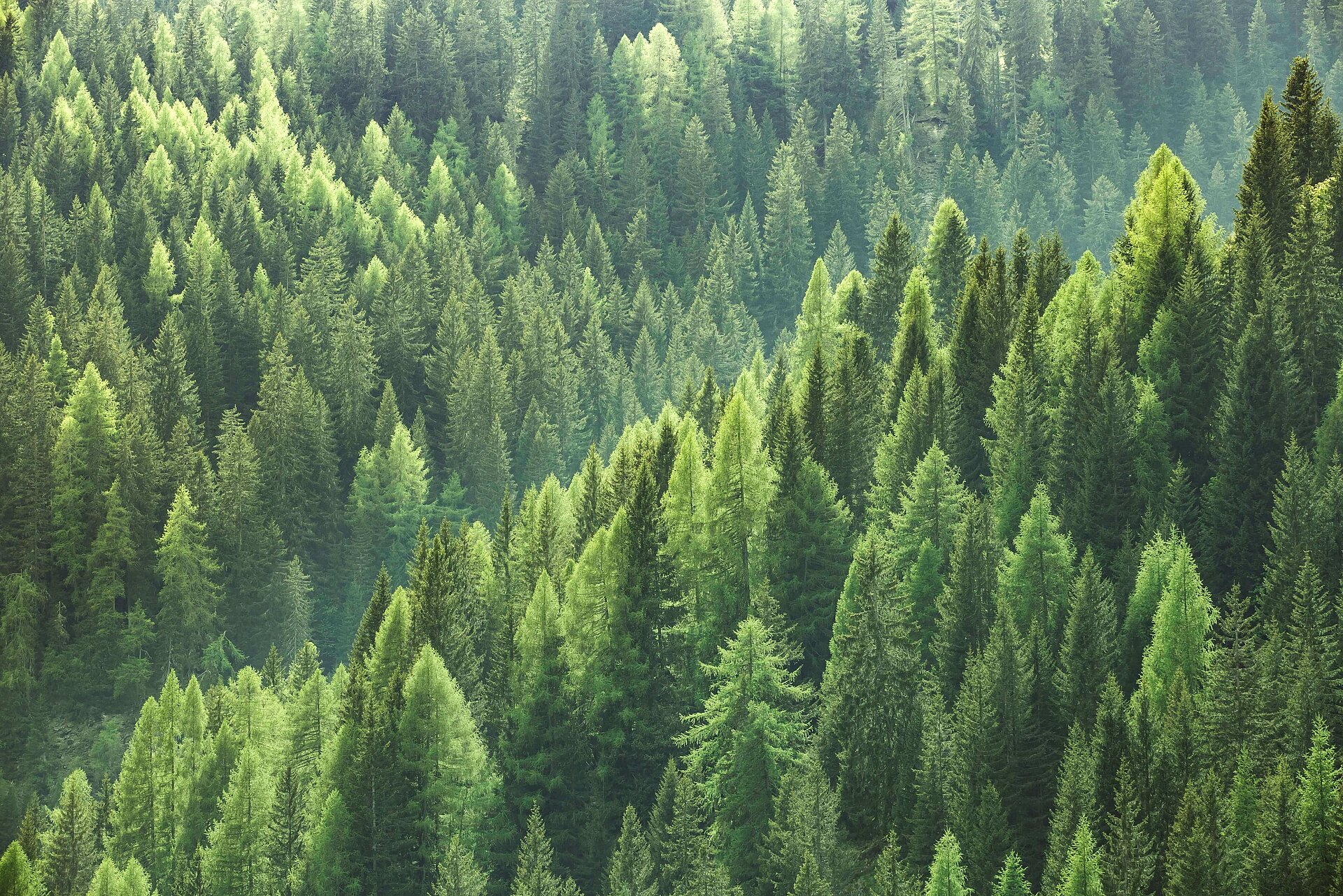 climate protection
fully compensated energy footprint
Karl Knauer Biberach
Power consumption reduces
when comparing 2022 to 2021
Karl Knauer Biberach
reduced water consumption
when comparing 2022 to 2021
Karl Knauer Poland
Natural leading edge: sustainable raw materials
It "grows" and is recyclable: Cardboard is made of a renewable raw material - wood - and is therefore especially environmentally friendly. In addition, no product is recycled as much as cardboard, pulp or paper packaging. Even if sustainability's already in the box - we get even more out of it by designing folding cartons so that they are efficient and safe throughout their life cycle. Our raw materials come mainly from the EU, ideally from sustainable forestry. Look out for FSC®-certified products!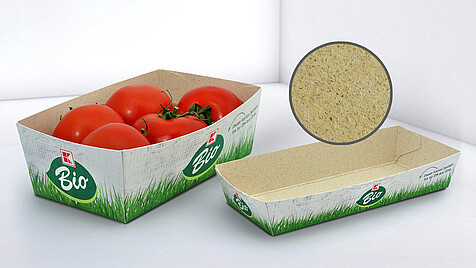 When it comes to waste, less is more
Meaningful reduction and smart prevention are concepts we apply to all areas. Waste prevention begins in packaging development: new packaging is designed to conserve as much material as possible and is placed on the printed sheet. The reduction of waste and scrap is also a requirement when it comes to purchasing new production machinery. The administrative sector is also participating: work is carried out in a way that reduces paper consumption as far as possible, supported by a document management system.
Sustainable added value for our customers

Cardboard as an organic alternative: We see ourselves as development partners for our customers and provide you with up-to-date advice on environmentally-friendly materials and sustainable packaging concepts. We advocate resource-conserving material usage; when developing a new design, we focus on utilising innovative, organic cardboard materials and minimising the use of materials - with the same functionality and quality of the end product.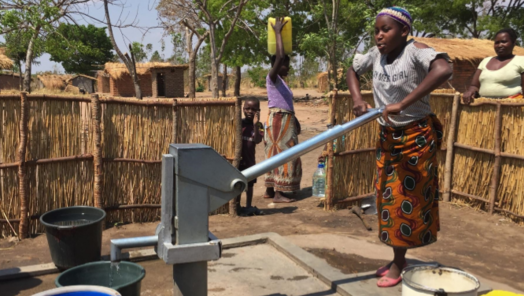 100% balancing of the energy balance in Biberach

Prevent, identify and compensate CO2: our sustainability management contributes to all this. Prevent CO2: the electricity at the Biberach site comes from 100% regenerative sources; part of the energy requirement is covered by our own photovoltaic systems. Detect CO2: this creates transparency. Compensate CO2: we are participating in the project "Well Systems, East Africa", which aims to reduce flue gas emissions caused by boiling contaminated water. In rural regions of East Africa, outdated and no longer usable well systems are being repaired, thus ensuring access to clean water.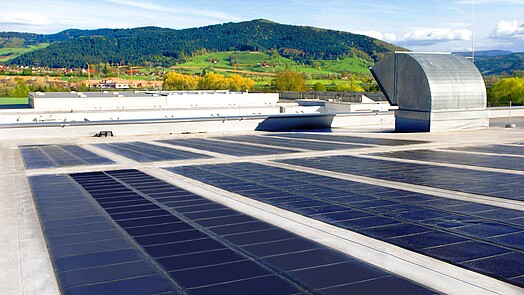 How we save energy.
And where

Energy efficiency up, energy consumption down: we take targeted measures to improve all the time. In general, energy efficiency is considered a requirement for purchasing new equipment and building technology. This has allowed us to permanently reduce energy consumption and cut CO2 emissions in production, building management and mobility. We have achieved these using methods including process optimisation, more energy-efficient printing machines, and the use of solar thermal energy or LED technology.
Excellent climate protection
Karl Knauer KG compensates 100 % of its energy balance and was honoured by the Association of Paper, Print and Media South Baden (vpdm) in 2021 for its 10-year membership in the CO2 Climate Initiative.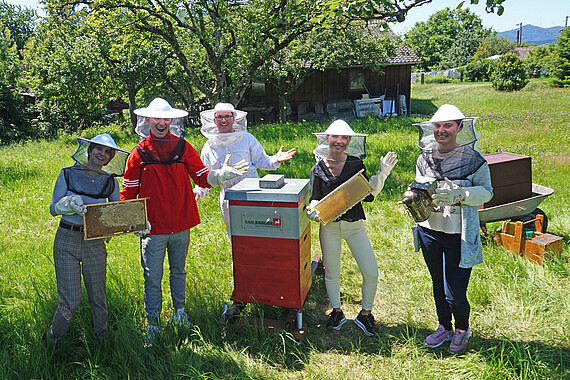 The Karl Knauer Bee Pasture
Already in spring 2020, the foundation stone for another future project was laid by the Karl Knauer apprentices: With our support, the work area for around 60,000 new Karl Knauer employees was set up in Zell am Harmersbach on an area of 2,600 m2: a flower meadow, which has since blossomed throughout the summer with many different varieties and provides a valuable habitat for numerous insects, but especially also for the new Karl Knauer bee colony. Equipped with protective clothing, the Karl Knauer trainees set about harvesting the honey under the expert guidance of "Bienenmartin". A total of 32 kilograms were harvested and bottled by hand. For the honey, a specially constructed honeycomb packaging was designed and realised together with the trainees – as you would expect from a packaging expert. In addition, 2022 our trainees built a 1 x 1 metre insect hotel.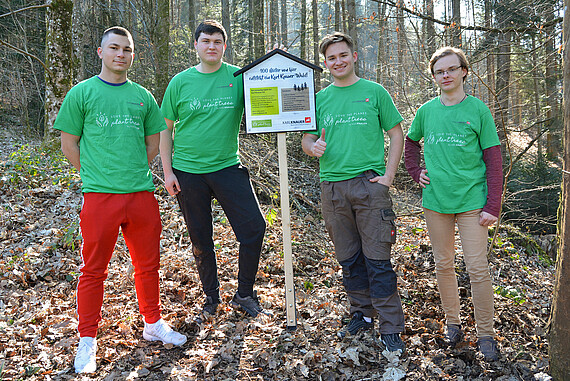 Tree-strong apprentice project
Working together with the Ortenau Landscape Conservation Association, Biberach's community forest ranger Christoph Müller and the forestry service Schnaitter, four trainees from Karl Knauer KG implemented the project, which had already been launched in 2021, at the beginning of March 2022 and reforested a fallow area of around 1,000 m² in Biberach/Baden. In this action, a total of 250 sessile oaks and 50 small-leaved limes were planted to recultivate the fire-damaged area. The project offers the apprentices insight into a whole range of aspects, from land preparation, the sourcing of planting supplies and planting itself, to the fitting of special sustainable wooden growth guards that protect the young plants from being damaged by wildlife. Karl Knauer is also engaged in projects in Malawi, Africa. Through "forstfreunde", 1,500 trees are set to be planted in spring on behalf of the packaging specialist, to replenish a forest that has fallen victim to illegal logging and fires.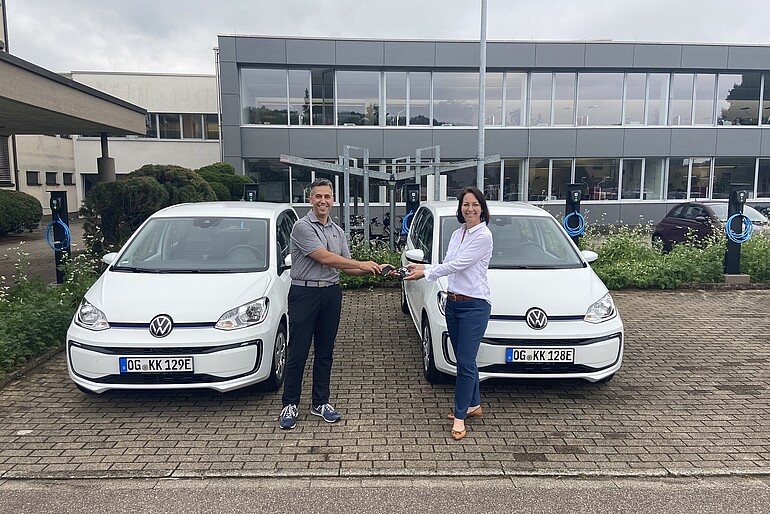 Since 2021, two fully electric VW E-Ups have been part of the Karl Knauer fleet and show where the journey is heading in terms of mobility. Because the proportion of company cars with electric drives will also increase continuously at our company. To ensure that Karl Knauer is prepared for the changeover from combustion engines to electric drives, the company has installed a future-oriented charging infrastructure for eight charging stations, which can be expanded to a total of 16 charging stations, in the company car park. Incidentally, one of the two E-Ups is reserved exclusively for trainees. It is at their free disposal and is used for journeys to school, company matters or also privately over the weekend.